🎉🎉🎉 Welcome to MobileMonkey 🎉🎉🎉
Welcome to MobileMonkey
We have created this guide to go over all the the difference sections of our platform.
Let's start with the dashboard. This is what you are going to see once you login to MobileMonkey.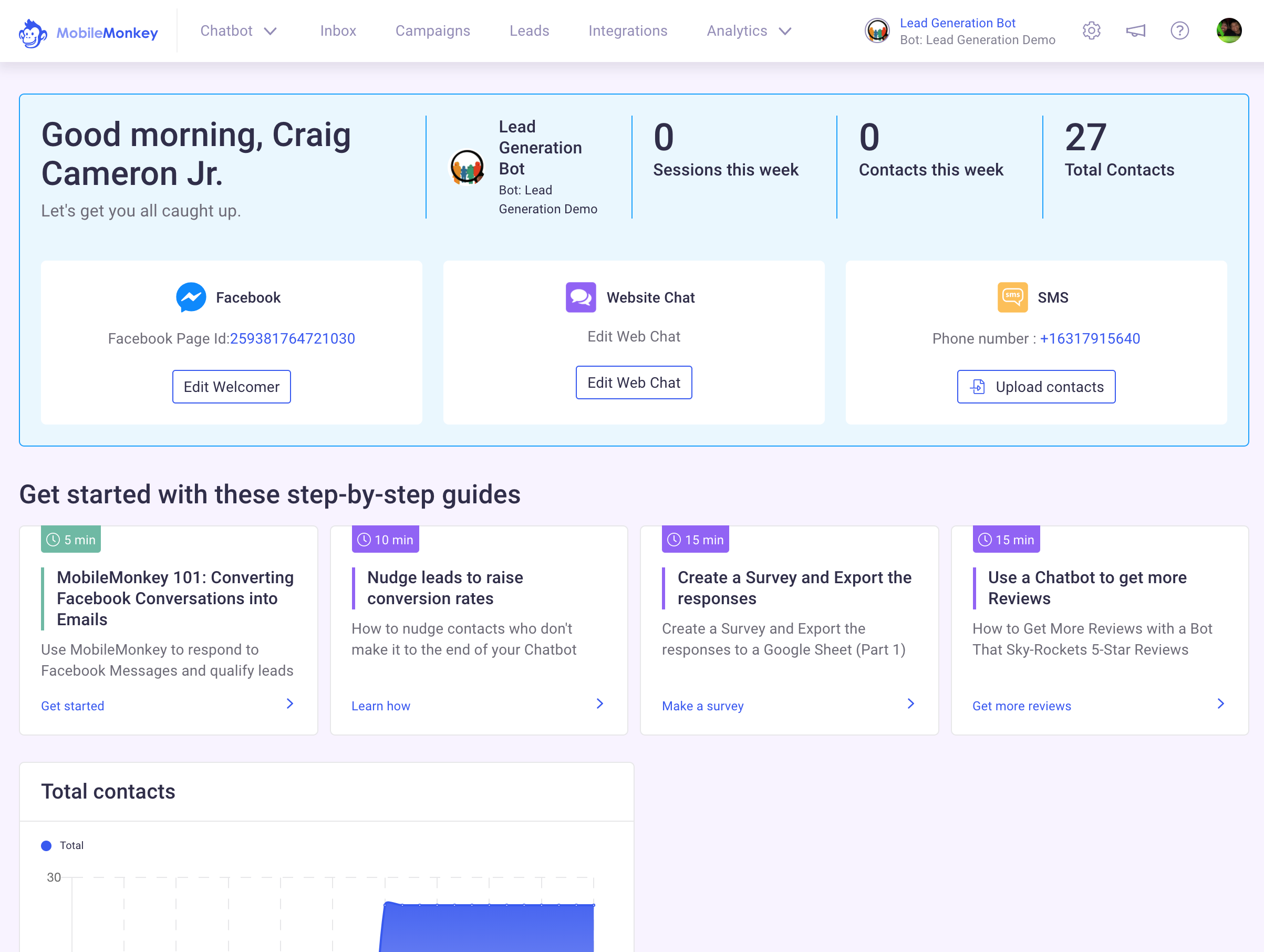 This is a quick overview of everything going on in your account. You will see all of the navigation on top and then in the blue area you will see your contact stats, quick access to some bot areas and some helpful quick guides.
In this guide we are going to go over all of the features and options so you know where things are and how to navigate through the dashboard.
Let's start with the top menu.

The first option we are going to look at is the Chatbot. There are 4 options to choose from.
Chat Starters
Dialogues
Q&A
Automation Rules
Chat Starters
When you click on "Chat Starters" you will be presented with the following screen.

Website Widget
Facebook Page Welcomer
SMS Keywords
Comment Guards
Opt-in Popups
Share Links
Landing Pages
Facebook Opt-ins
We will be going through each of these below.
Website Widget
The website widget is how you add chat to your website or landing page. It sits in the bottom right corner and there are several different options.
Once you click on the "Website Widget" from the list of options you will be presented with the following screen.

Here you will see a list of all your website chat widgets. You can have multiple widgets for different pages which really gives you the ability to personalize the experience for your users.
If you don't have any yet or you are ready to create a new one just click the blue button on the top right.
There are 4 steps that you can go through.
Customize your chat widget icon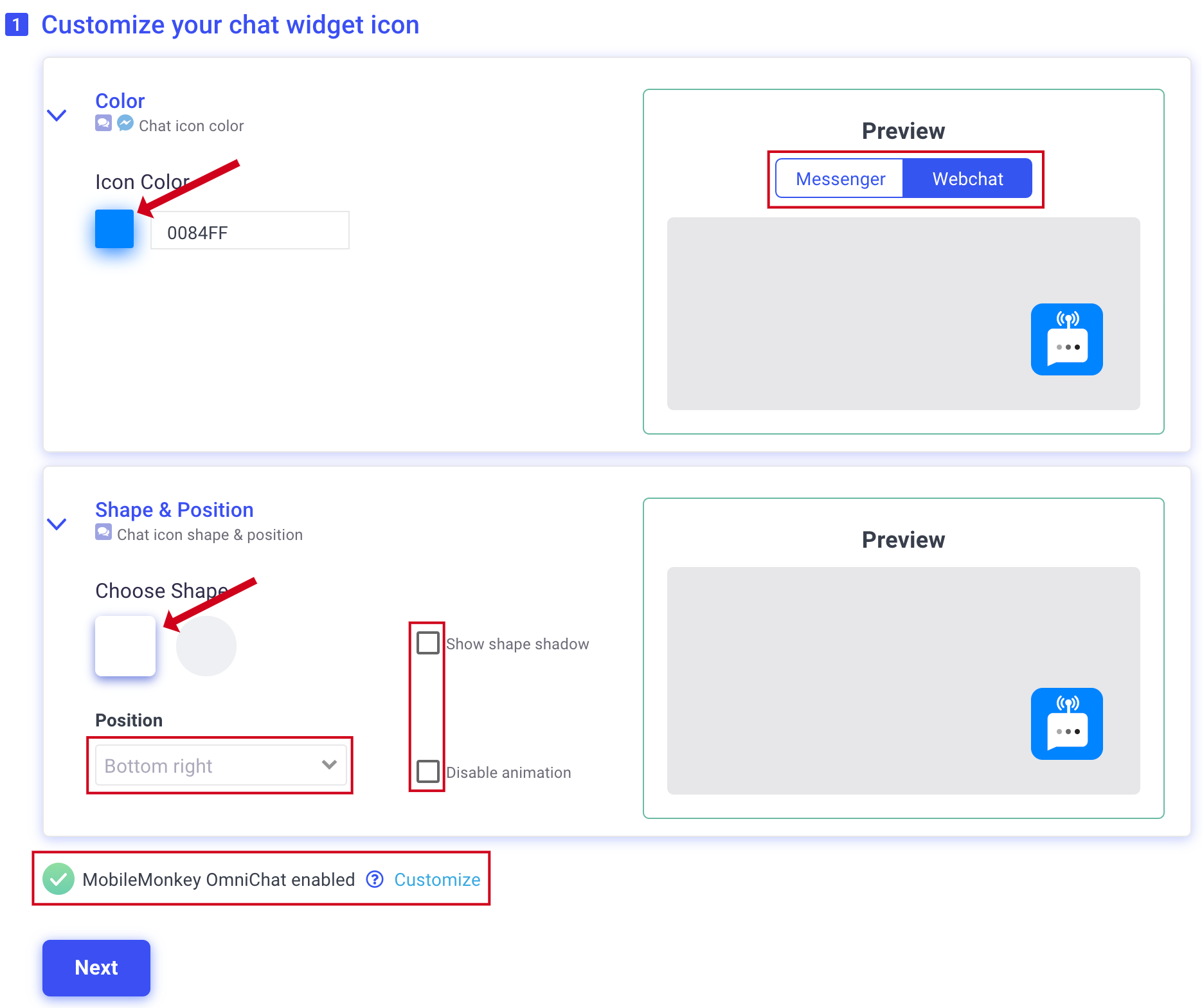 You can customize your chat widget a number of ways. You can change the color and if you can choose preview to see what the website widget looks like. You can also choose the shape, position and if you want a shadow or animation.
You also will choose on this page whether you want the OmniChat enabled. Clicking on this gives you the following options.

We recommend you keep the OmniChat enabled. This will automatically identify if a user is logged into Facebook or not and show them the appropriate chat widget. If you want to only show the Messenger icon or only the Webchat option then you can select those here as well.
Set up Greeting
So there are three different types of greetings you can have.
Messenger Greeting
Webchat Greeting
Greeting Behaviour
Messenger Greeting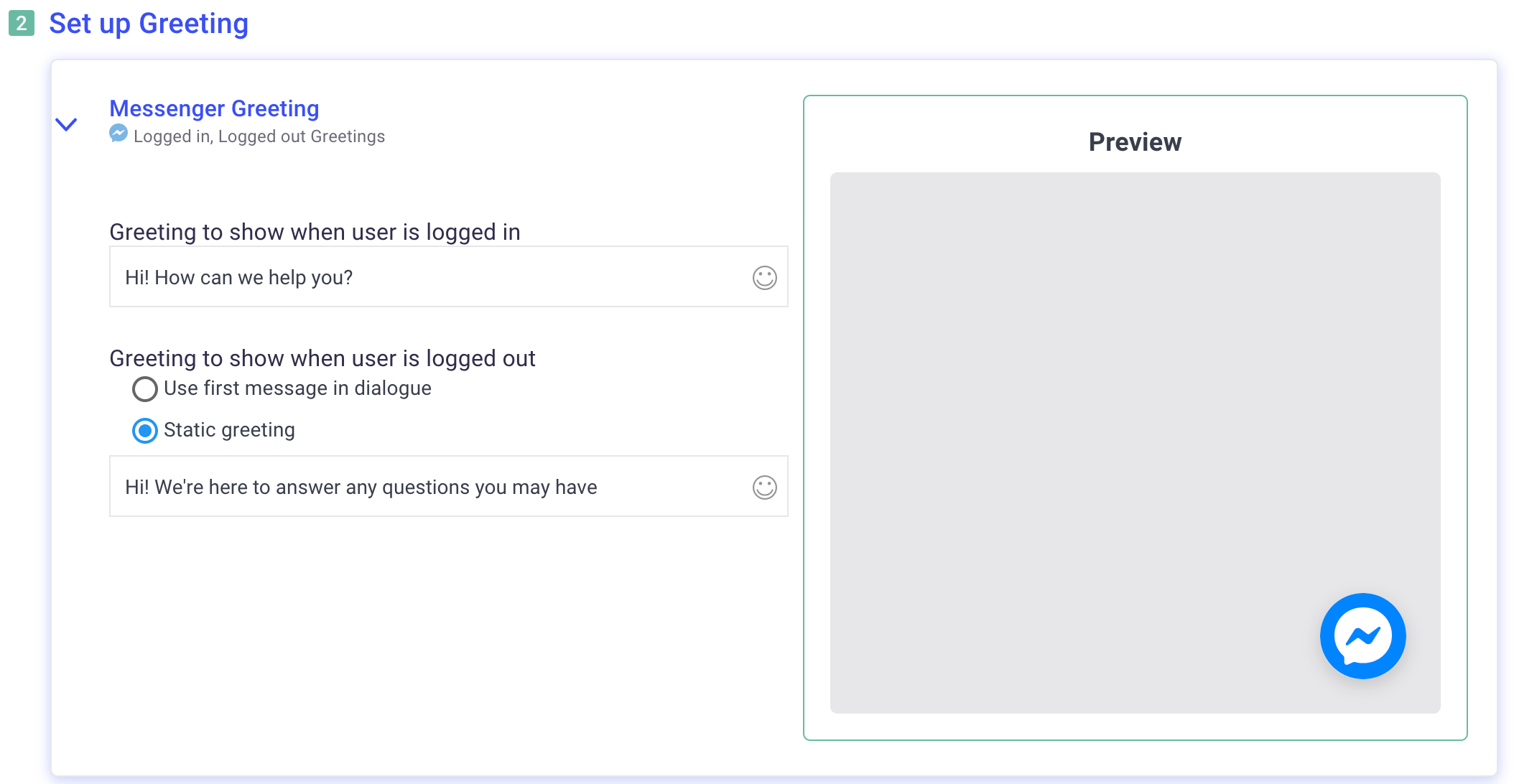 The messenger greeting is when a user is logged into messenger. You can control what the message says when the user is logged in and when they are not.
Webchat Greeting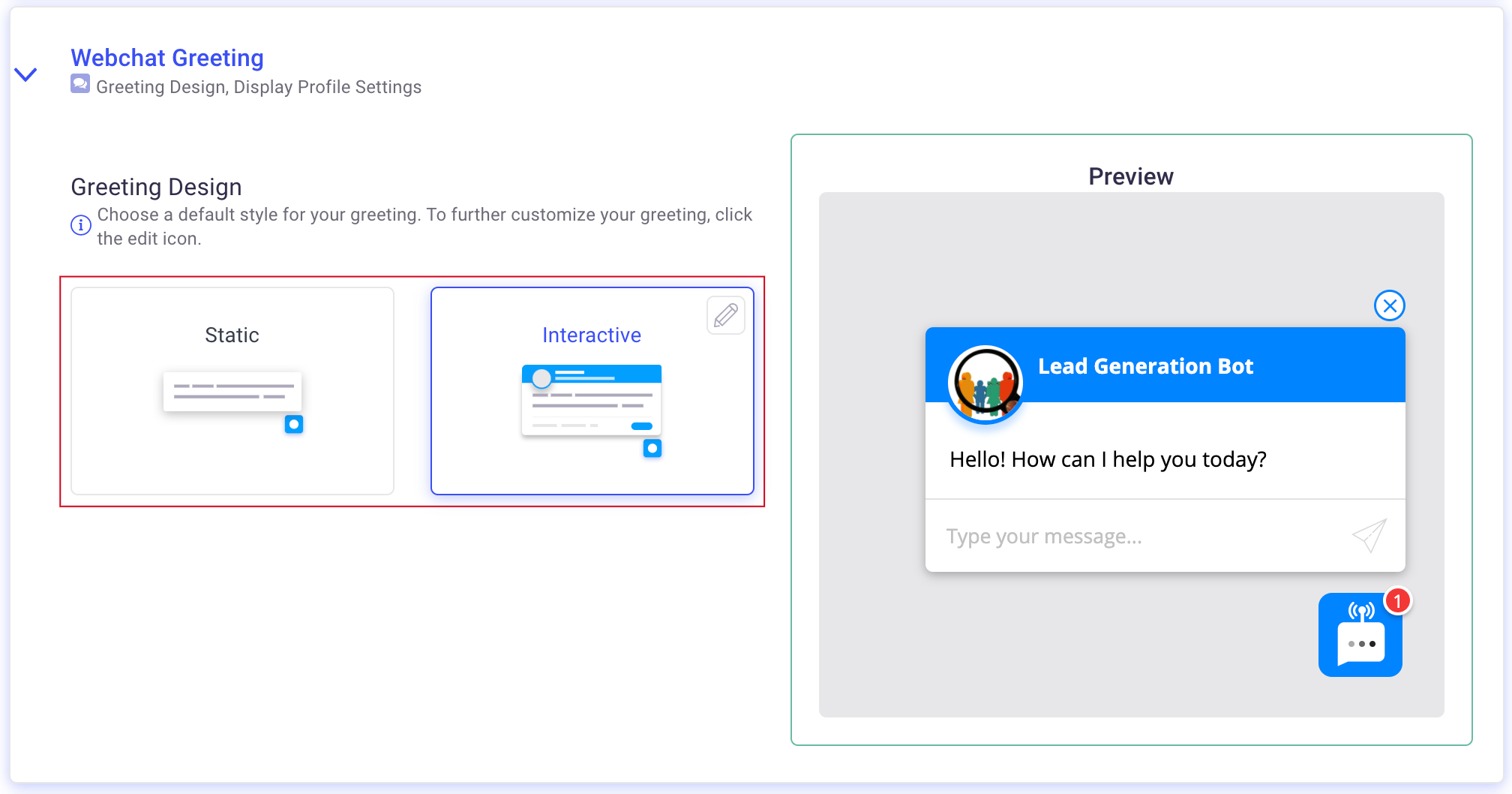 This is a preview of what your greetings will look like. Just click the option and the preview will show on the right side.
Greeting Behavior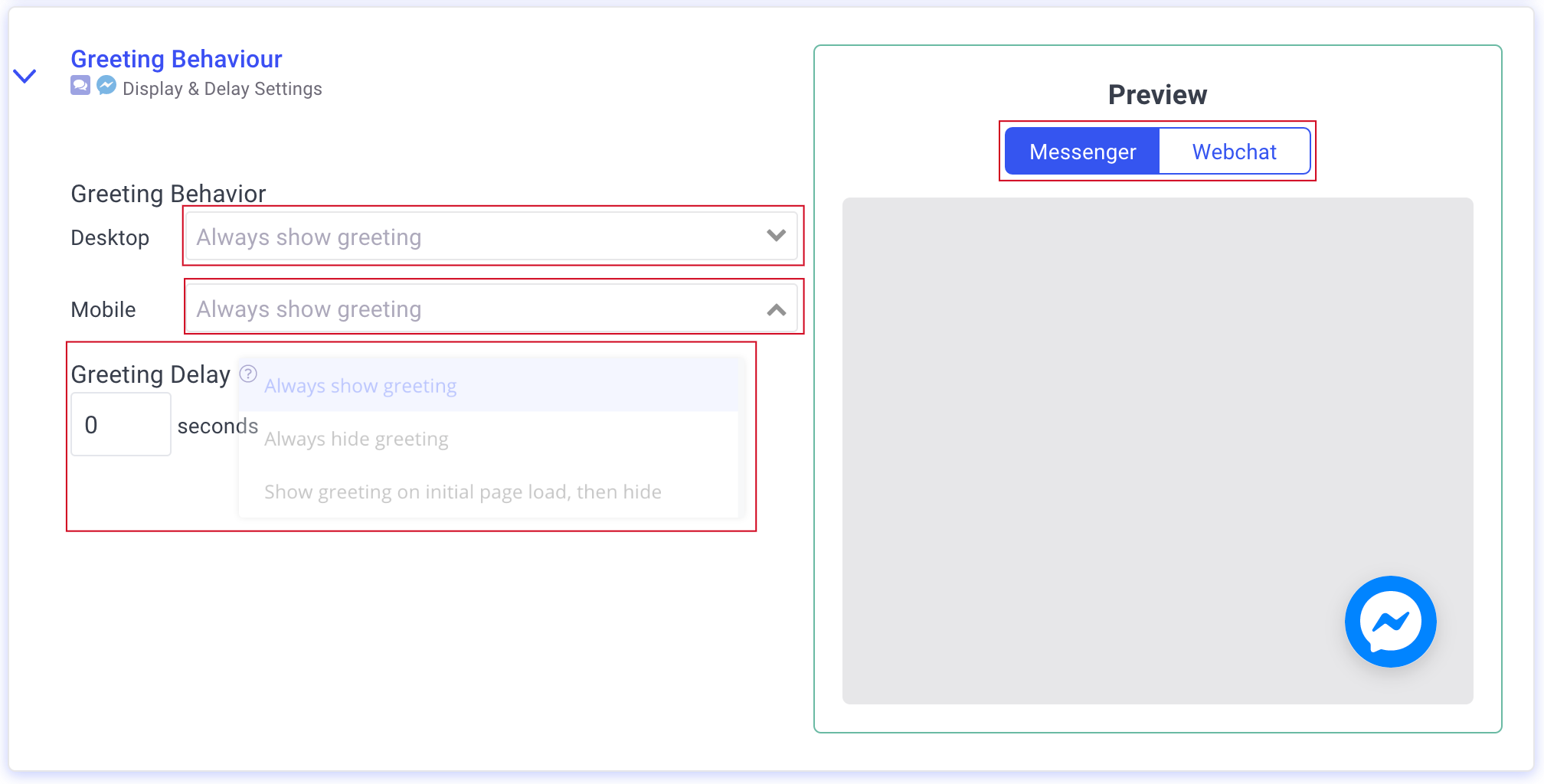 You can choose if you want your greeting to always show always hide or pop up after so many seconds. We suggest trying each one to see which one your users respond to best.
Choose a Dialogue for your website visitors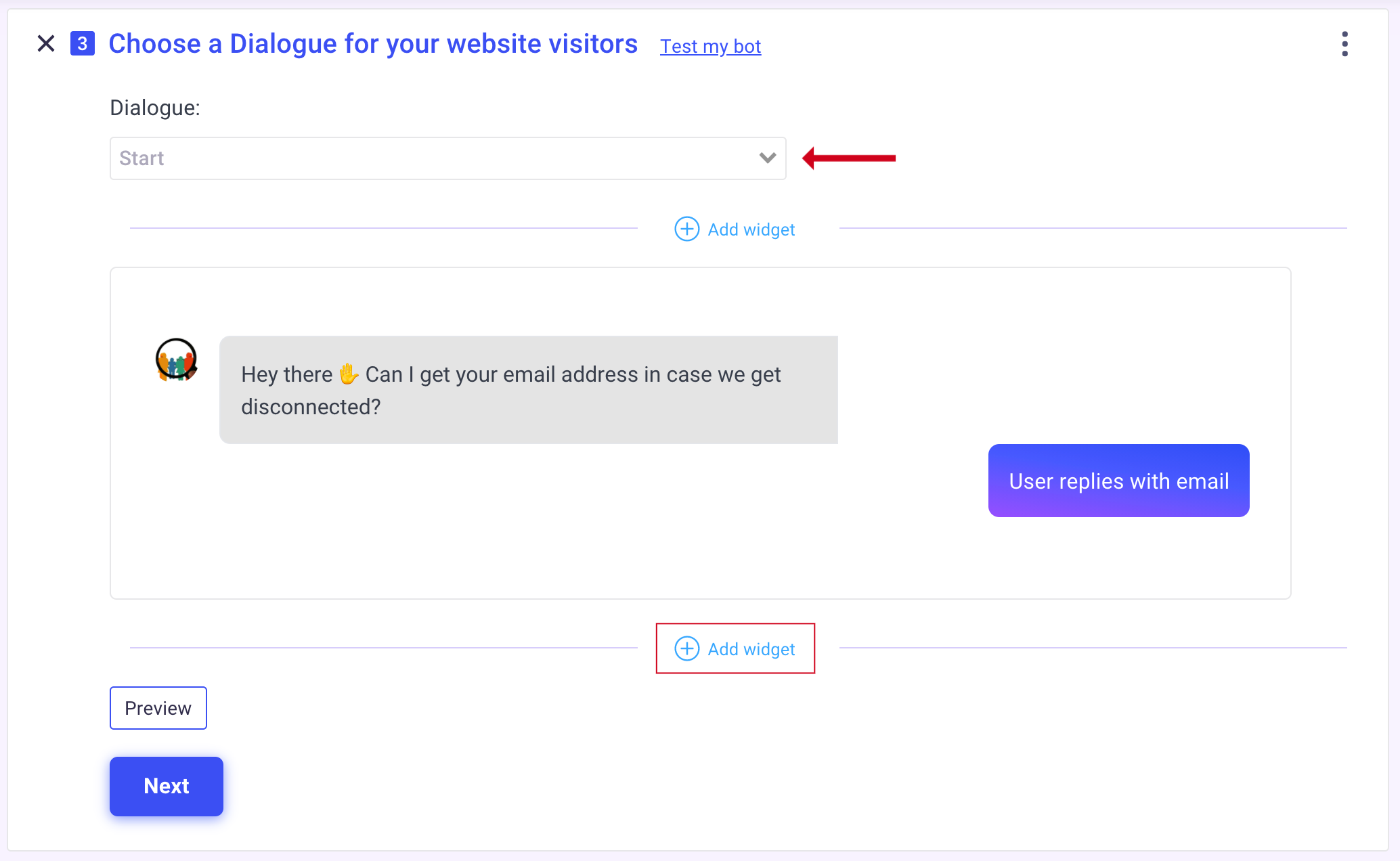 When a user actually clicks on the website chat widget the greeting they get will depend on what settings you have chosen here. You can choose a dialogue that you have already created or create a new one right from this screen. All the widgets you normally use to create a dialogue are available here.
Choose when the chat icon will be displayed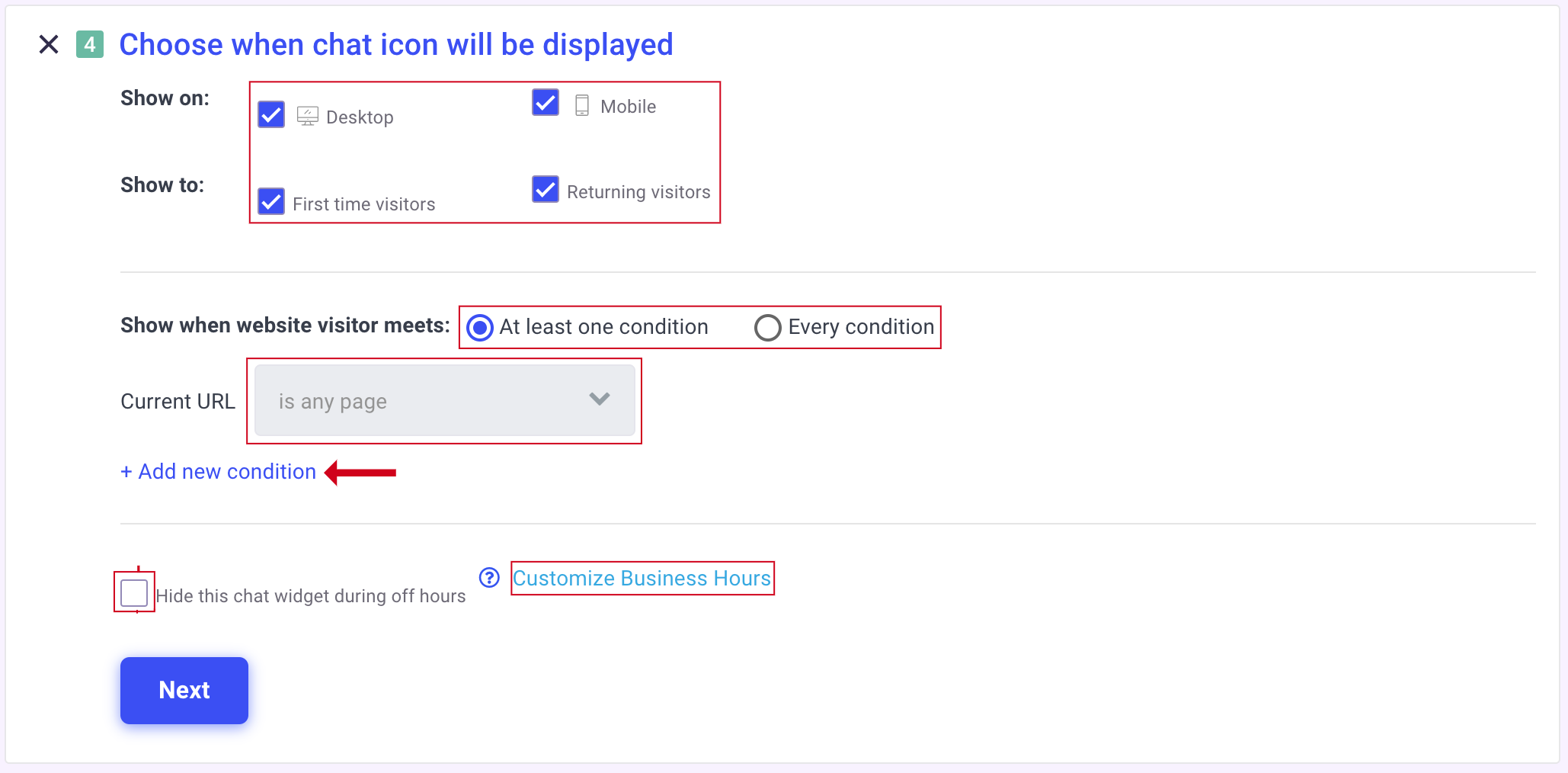 Now that you have all the settings just about configured, it's time to choose where and when you want this chat widget to show. You can choose to have it show on the desktop or mobile and to first time visitors or returning visitors. Here is an example. Let's say you have a special offer you want to show only to first time visitors.You would could check that box and this would then only show to first time visitors. You would then have to create another chat widget and make that show to returning visitors.
You can also choose what pages this chat widget shows up on. This allows you to personalize the conversation based on where your users are at. You can even choose to turn off this chat widget during off hours. This is great for local businesses that don't want people messaging them during off hours.
Install Customer Chat Widget
It's time to get this chat widget installed on your website.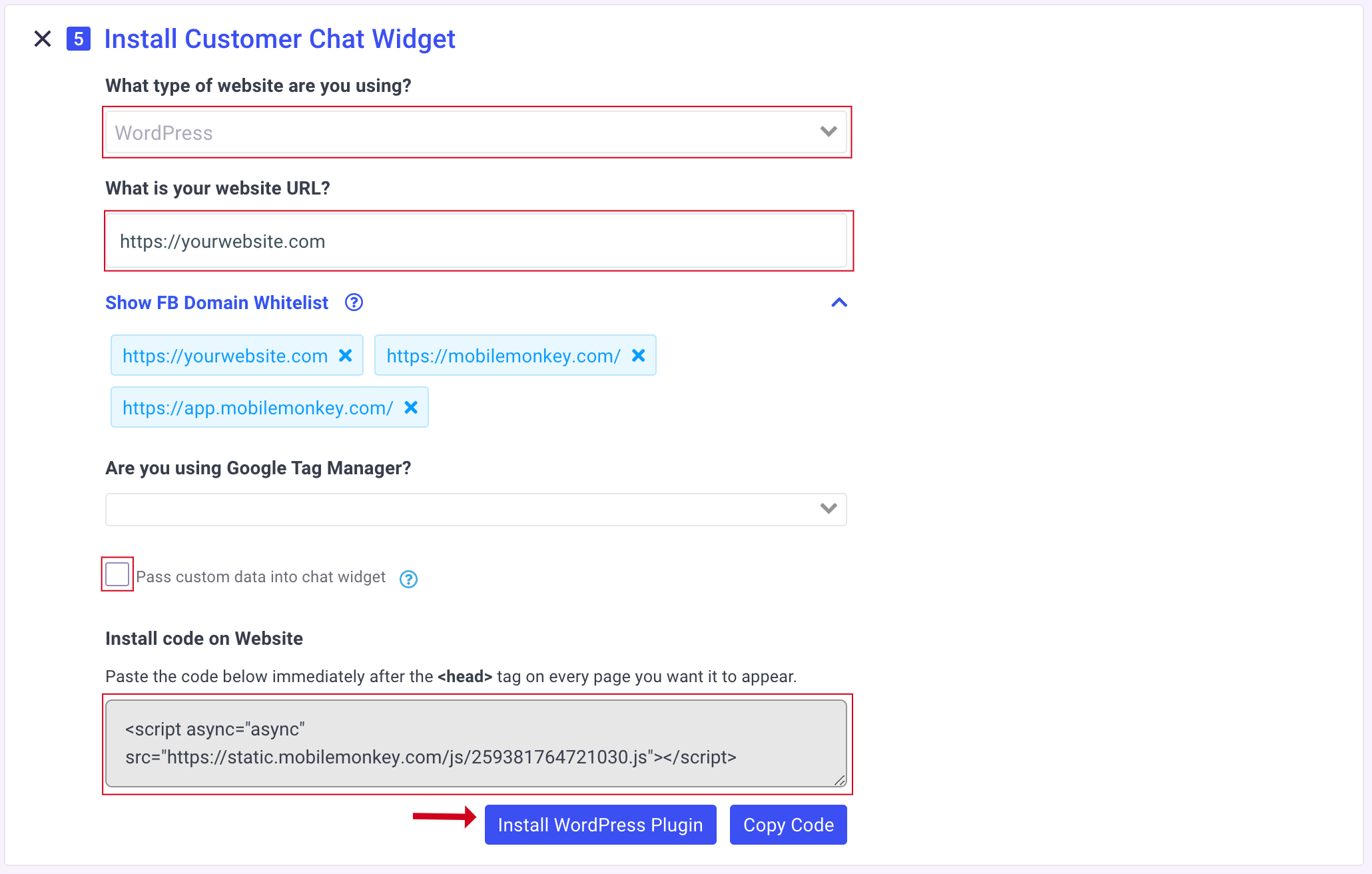 There are a few steps you need to take to install your chat widget. You will need access to your websites code so if you aren't familiar with that you may need to talk to your web designer or email support@mobilemonkey.com.
The first thing you want to do is choose what type of website you have. Once you choose that you will see the button at the bottom where the arrow is change to the guide for installing the code on your specific website. You can share this with your web developer if you aren't able to do it yourself.
The next thing you want to do is type in your website address. Make sure you include the "https://" as it is required by Facebook.
Finally you want to copy the code and place it on your website or have your web developer do it.
If your chat widget is not showing up on your website after a few refreshes then use our Troubleshooting tool to see what might be wrong.
Troubleshoot your chat widget installation

This will give you some ideas about what may be wrong.
If all is working you can click the "Activate" button in the top right screen and users can start to interact with your new website chat widget.
Facebook Welcomer

Decide what your first message is going to be. You can choose from the following options:
Text Widget
Quick Question Widget
Image Widget
Notification Widget
Gif Widget
Form Widget
Gallery Widget
Attachment Widget
Navigate Widget
Video Widget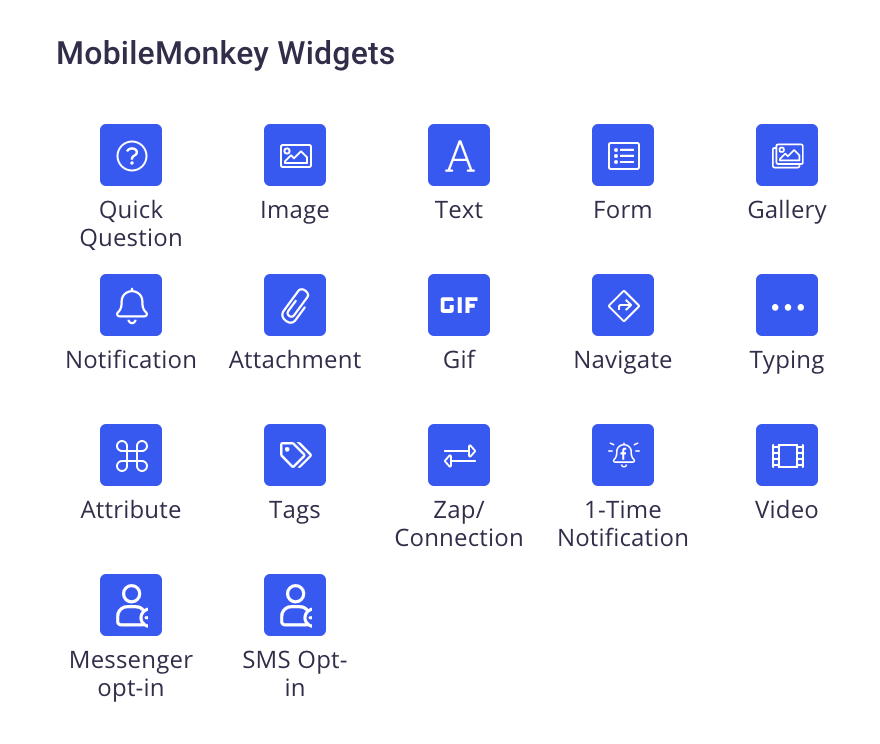 We recommend you start with a welcome message. The best way to do this is by adding the Text widget.
Add a Text Widget

Once you click on the Text icon you will see the widget below. Simply type a welcome message that you want your visitors to see.

Here is an example welcome message. You can place emoji's inside your message to give it personalization. You will notice that there is a button below the text. It is not required to add a button and if you don't you will just see the text message which is what we recommend for this first message.

We like to give our new visitors some different options as to how they can interact with us. There are a couple of ways to accomplish this. You can use a Quick Question widget or if you want to get a little more fancy you can use a Gallery widget.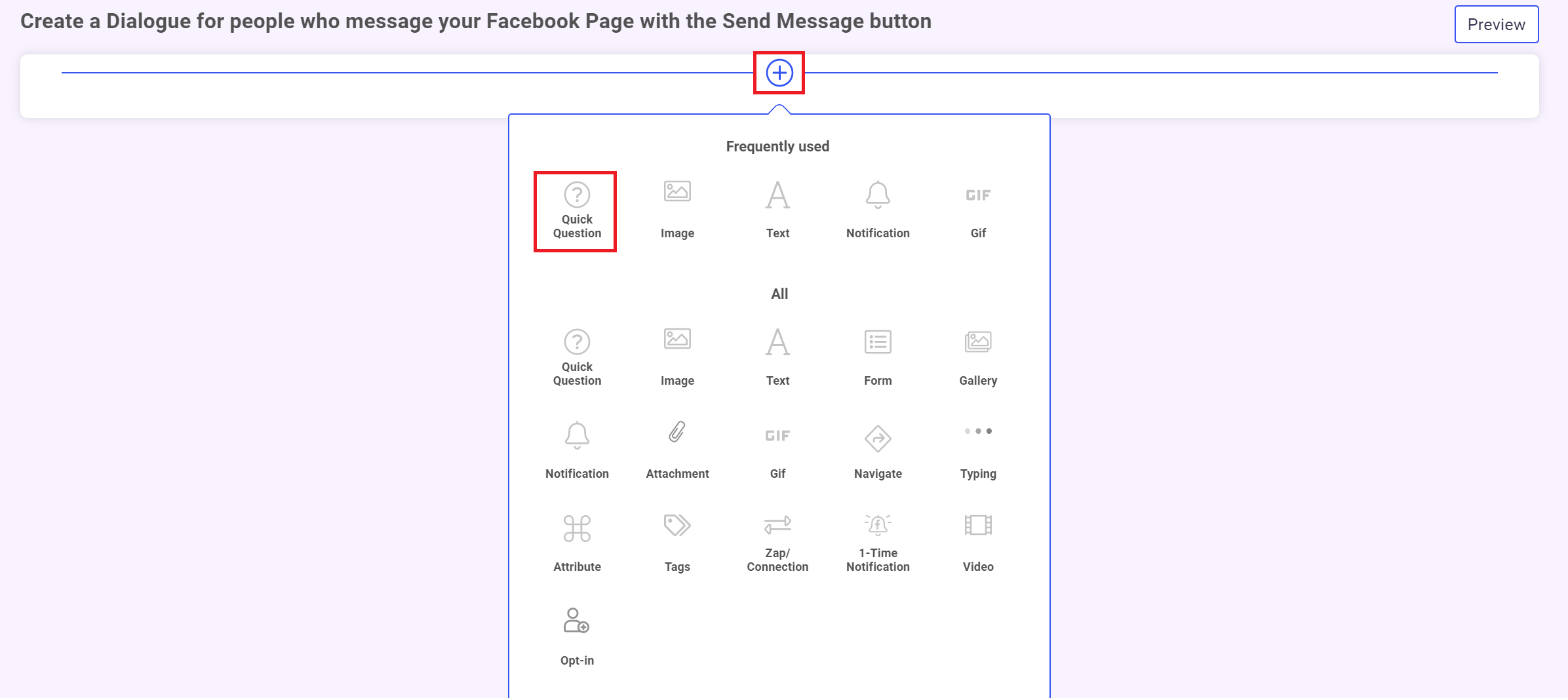 The Quick Question widget allows you to provide a quick menu as you can see below.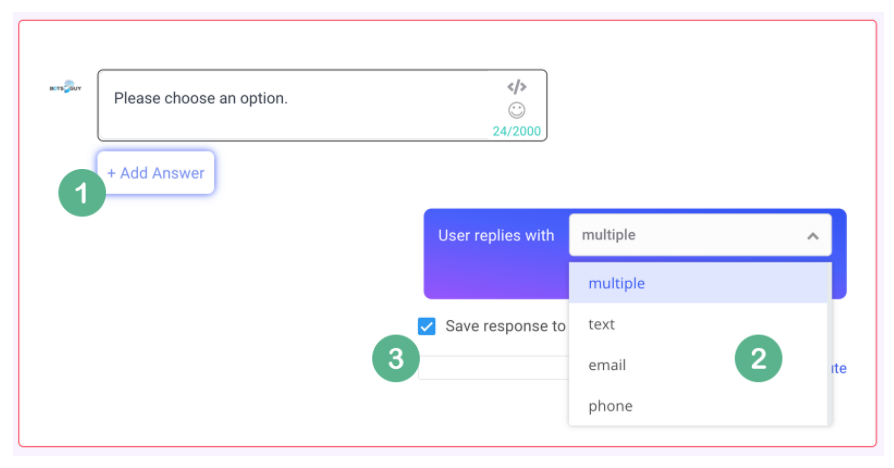 This is the options that will show up for your user to choose from. We recommend only adding 5 at the most.
There are four different actions you can choose for your Quick Question widget.

Multiple Choice
Text Only
Email
Phone

You can also choose if you want to save the data to a custom field. This is a good idea if you want to build custom audiences that can be later used to retarget your visitors.
For this example we are going to use the Multiple Choice option.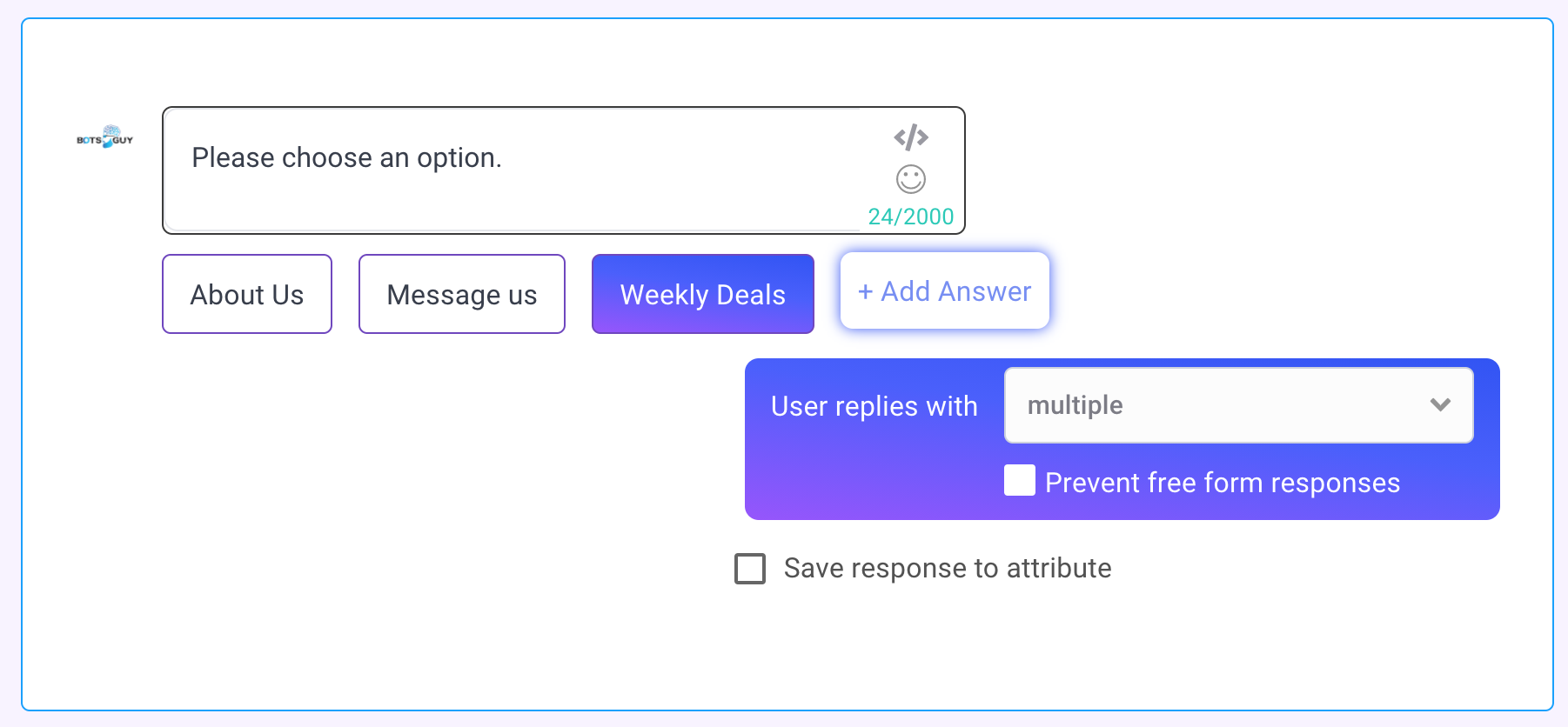 You can add multiple buttons and each button will have it's own conversation. Once you add a button you will have two options.
New Dialogue - This is where you will create your new conversation.
No - If you just want to give them an option that takes them to the next widget you can choose this.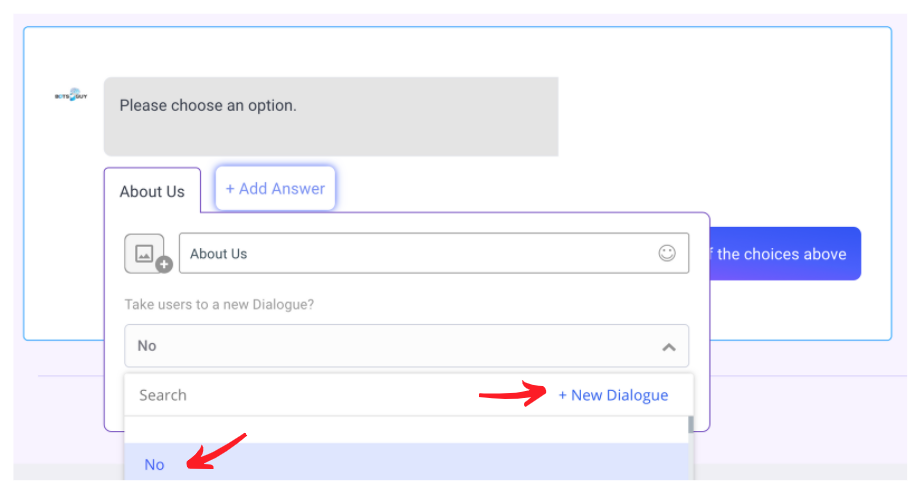 Let's choose the "New Dialogue" MobileMonkey will use the same name that you named the button but you can always rename if if you want.
You will see a drop down underneath "Take users to a new Dialogue?" This will show you all the existing dialogues you have created so you can easily link a button to them if you want.
To start adding widgets to your new dialogue click on the "Add widget" link.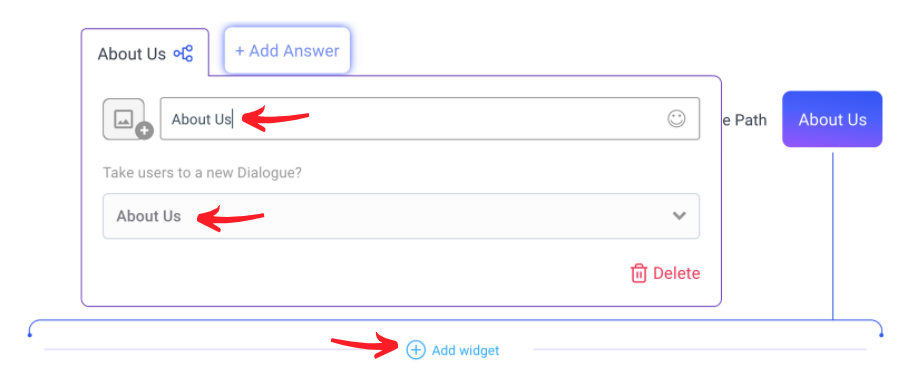 Continuing with our About Us example. We are going to choose a text widget. Inside the text widget you can type the information about you and or your company. Now remember, most people will be accessing this from their mobile phone so you don't want to put too much text.
TIP: If you have a lot of text add multiple Quick Question widgets with the text option. Then add one button that says "Continue". This will give the user time to read before the go to the next block of text.
Ask the user for their email address
Next up, add another quick question. This one should have the User Reply set to email, and should ask them for their email address.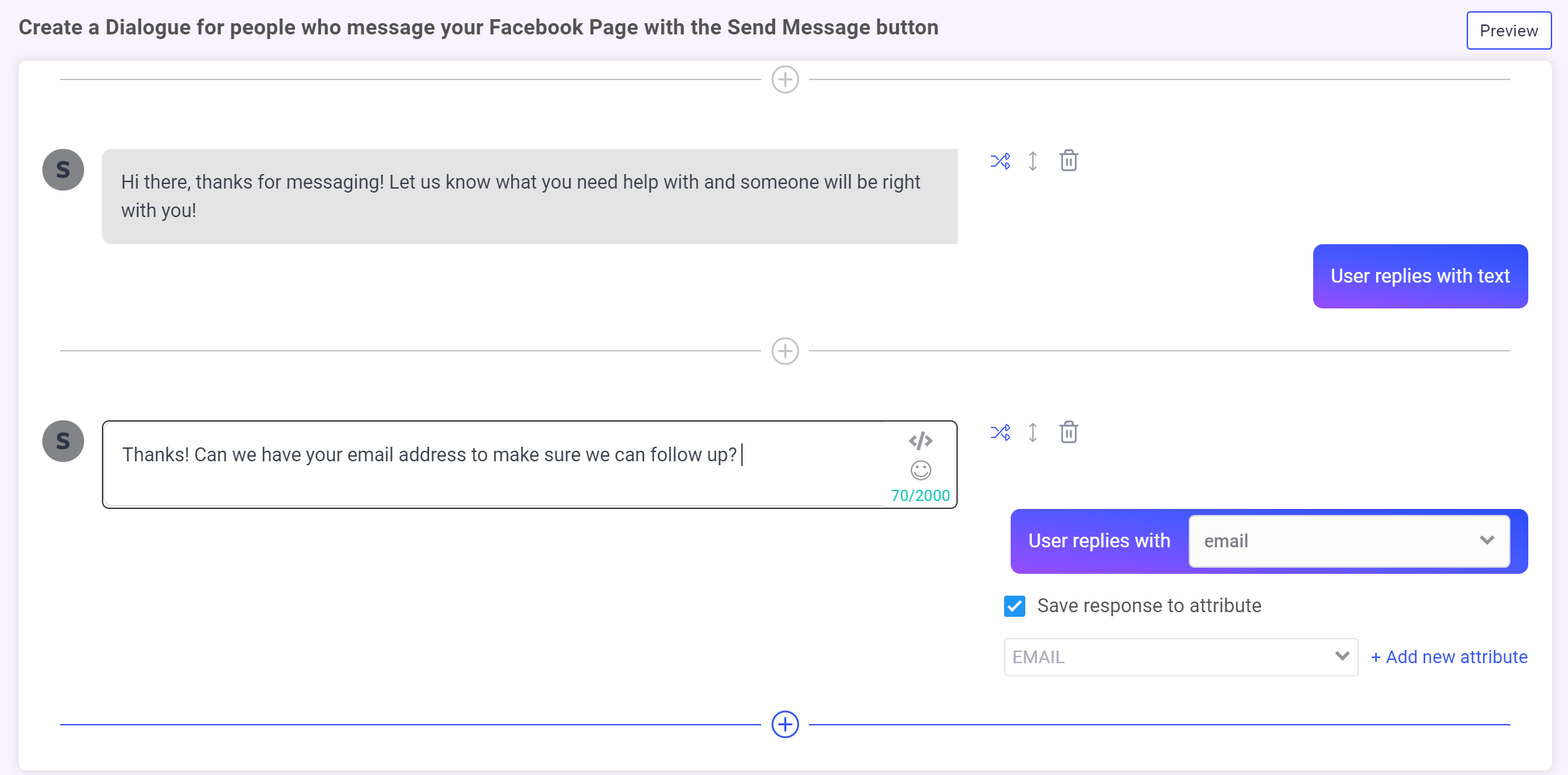 Your welcomer message can be as simple or as elaborate as you want. MobileMonkey gives you the ability to create whatever you want.
SMS Keywords
This is a very powerful feature and one that you must implement in your strategy.

The first thing you have to do is choose a keyword by clicking on the blue button.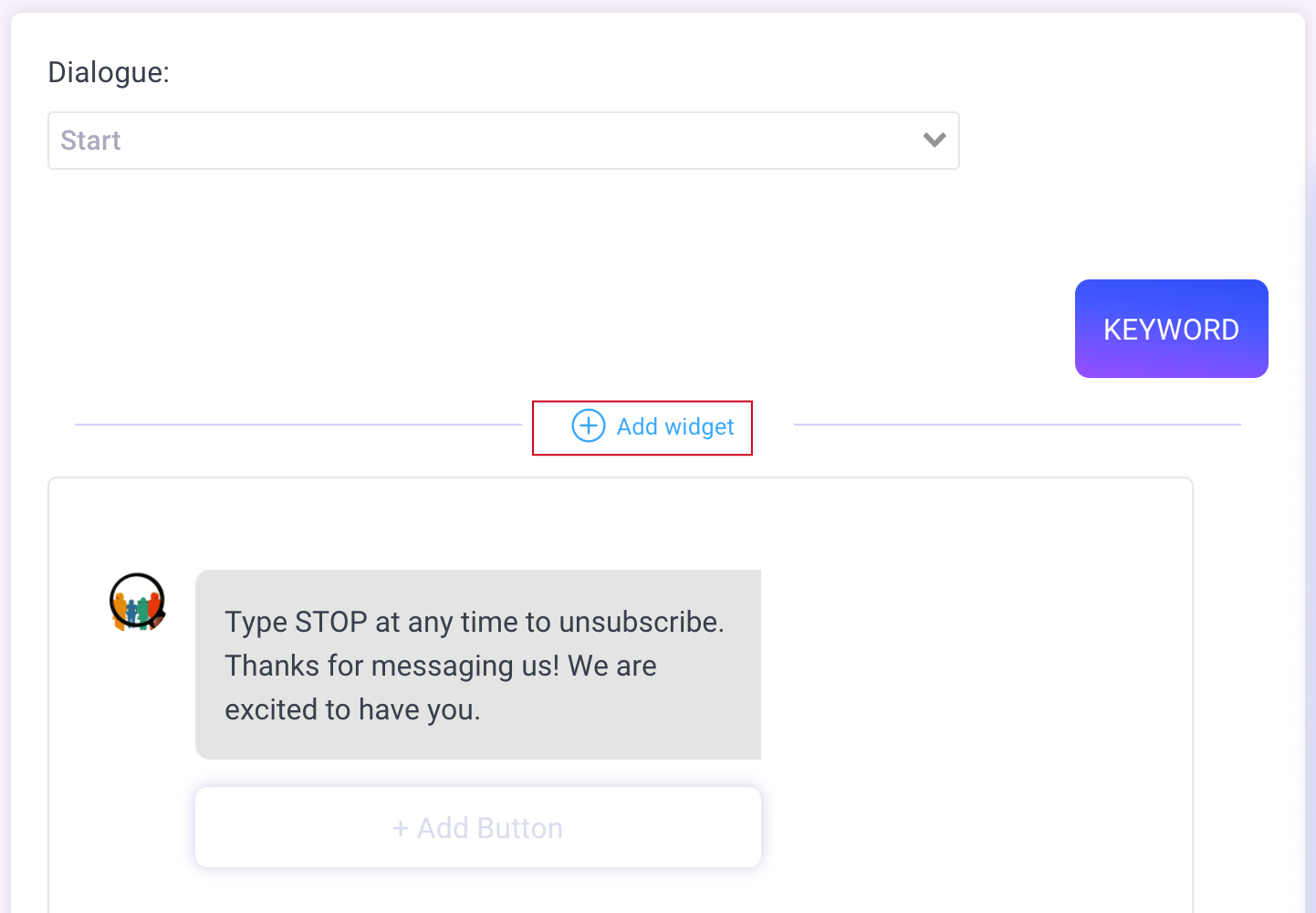 From here you will want to build out your dialogue flow. How there are some very important things to be aware of when you are building out a dialogue for SMS.
Here are some guidelines to follow:
Send ONE Image/GIF widget followed by ONE Quick Question/Text widget! These two widgets will be sent together in order as an MMS message, and will be safe from getting mixed up by the time they reach your contacts.
Use Quick Questions with Multiple response options as often as possible. It's always best to give your Chat contacts a choice rather than an open ended question!
Keep your messages short and sweet! Texting is not the same as email. Make sure you don't send a wall of text. (More on this one below)
Make sure you keep your messages short and sweet! If your message is more than 160 characters, we will send it as an MMS message instead of multiple SMS messages which will keep things together.
As you build out your flow you can see a live preview on the right side to make sure things are looking smooth.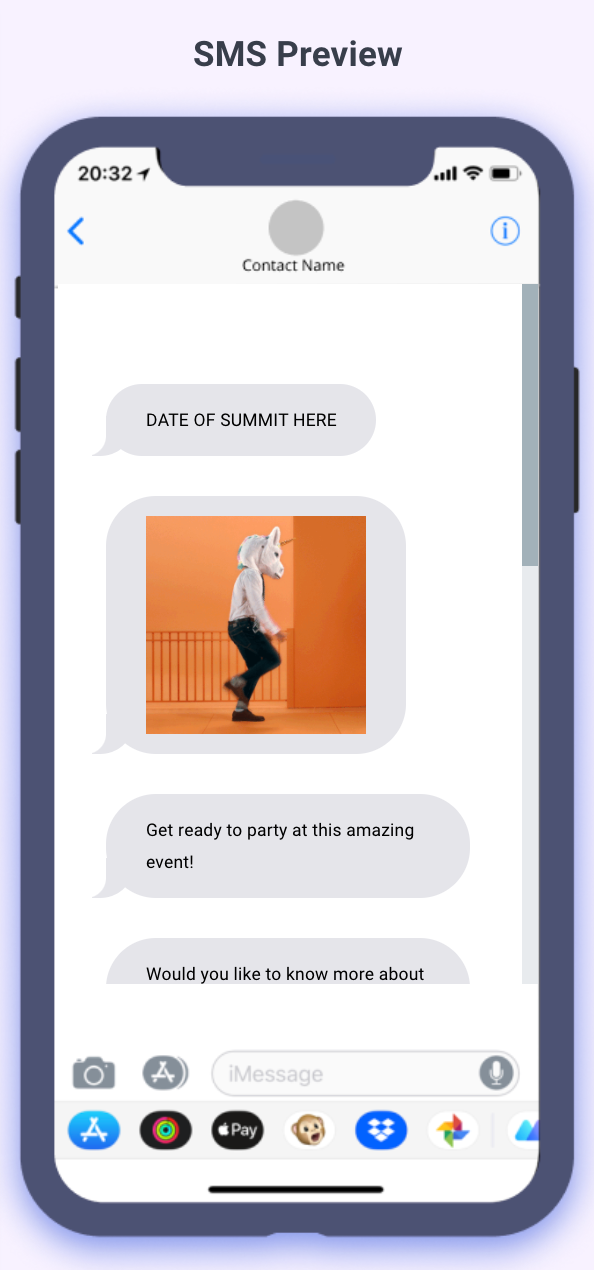 Once you are done building out your dialogue you can now share it. Here is how you do that.
Just tell people to text your "keyword" to your "sms number" that you got from MobileMonkey. Once they do that they will be brought through the dialogue conversation. You can add multiple keywords for different situations. This is such a great way to build up your SMS list.
Now on to the next feature on our list.
Comment Guards

Comment guards are another amazing tool from MobileMonkey. With comment guards you are able to capture leads for FREE! All you have to do is implement this on your Facebook posts and watch the leads come in.
When you click the "Create Comment Guard" button you will be presented with three steps.
Choose whether to apply this comment guard to a single Facebook post or to all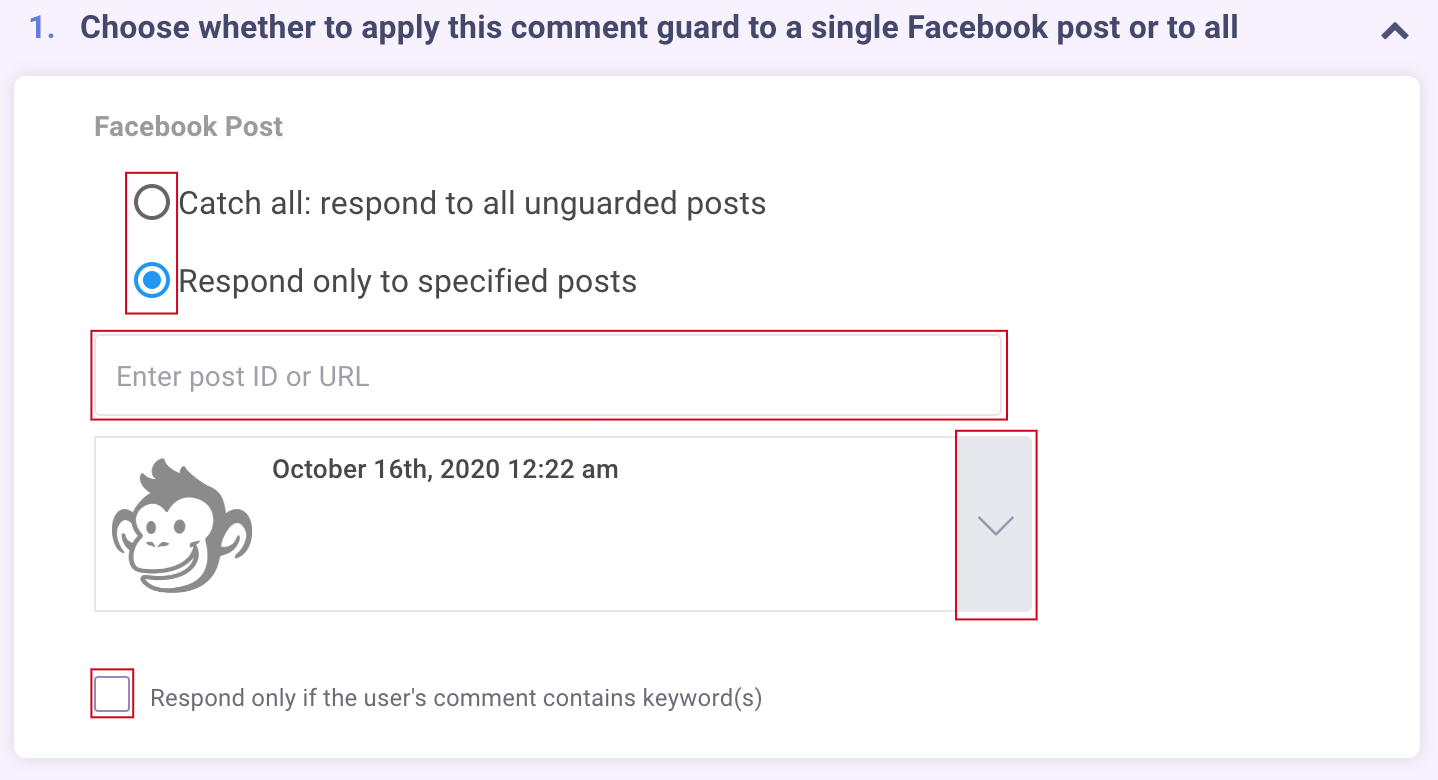 If you choose "Catch all: respond to all unguarded posts then every time someone comments on any post on your Facebook page the bot will send them a message. This is good if you just want a generic response.
If you would like to make your dialogue conversation more specific you can choose to make this for a specific post. This way it's relevant to the post and will most likely get higher opt-ins.
You can also choose to only respond of someone types a specific keyword. A fun way to use this feature would be to do a contest for the right answer. The bot would only respond to the person who responded with the correct answer. This is a great way to get a ton of comments and opt-ins to your bot.
Once you choose an option now it's time to create your dialogue.
NOTE: You can create multiple comment guards and have one that sends a generic message to all and others that are specific to individual posts.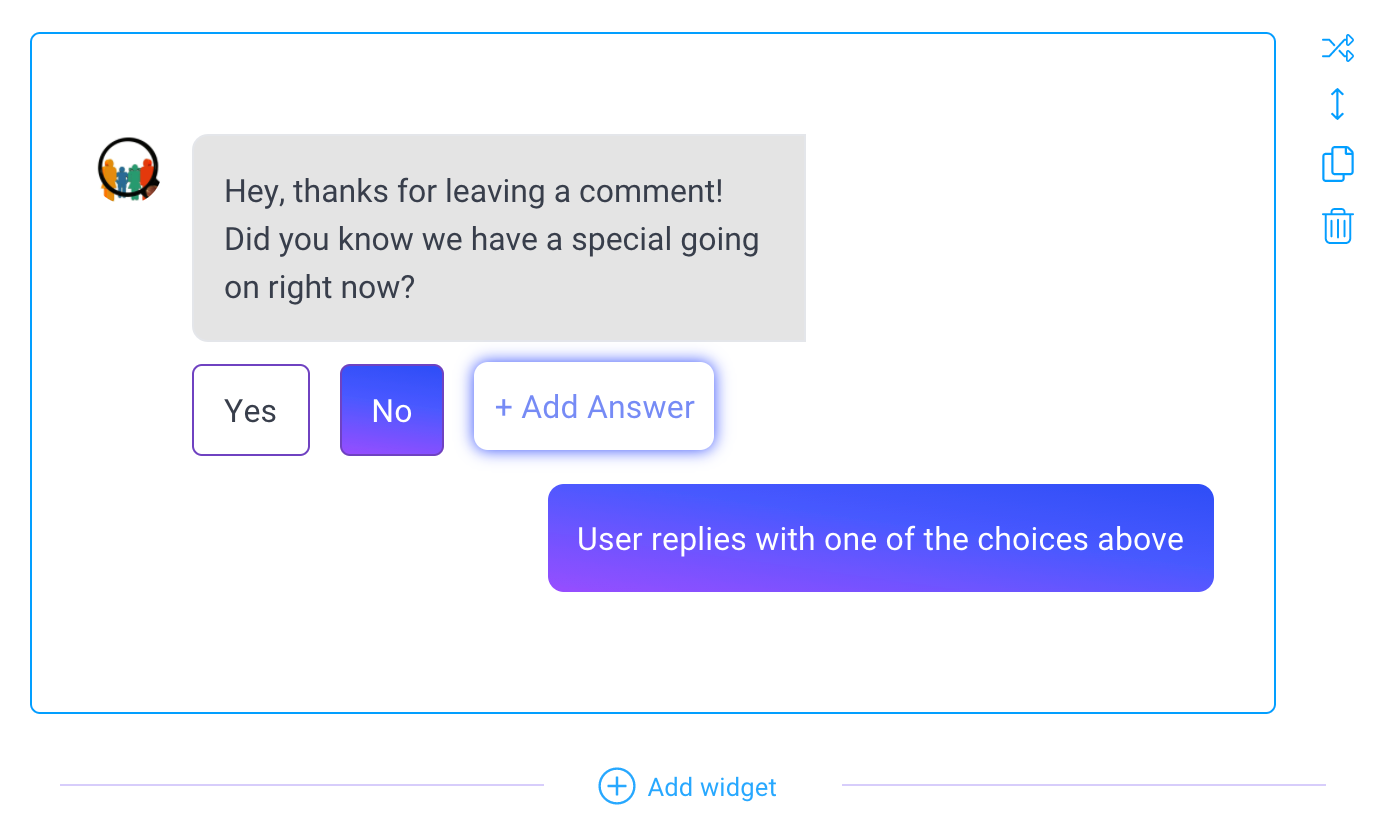 You have the same options you have in any of the other dialogues. You can build multiple widgets to build any type of conversation you want.
The final step is to choose a frequency cap.

The default is 1 hour but you can change it to minutes, hours, days, weeks and months.
SMS Opt-in Popups

SMS Opt-ins are great for collecting phone numbers from people who visit your website. MobileMonkey makes it really easy to build really nice pop-ups.
Popup Design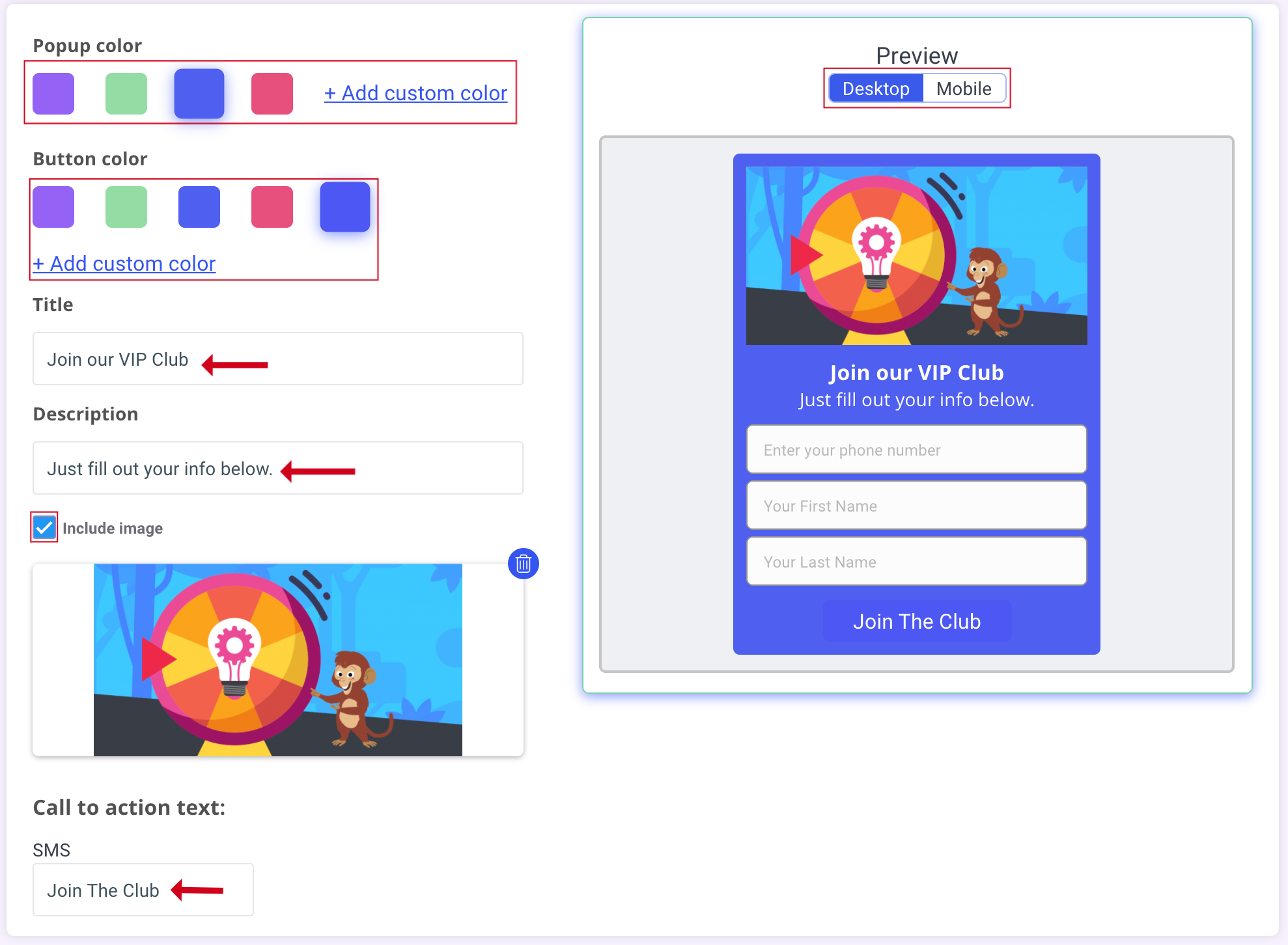 Here is where you design your popup. You can change the colors of the popup, the buttons and add an image if you want. Then type a Title and a Description and button name.
Once you are done there you can move on to the Popup confirmation.
Popup Confirmation

This is the confirmation window. You can change the Title, description and the button.
Create Your Dialogue
Now type a message that will be sent to their phone. It's good to make this short and sweet. In the example below we are asking them for their email. What's unique about MobileMonkey's dialogue is it can be used across all the other channels. Whatever you build here can also be access in messenger or webchat.

Install Opt-in Popup Plugin
Make sure you add the domain that you are going to have the pop up on. Then copy the code and place it before the </head> tag on your website. If you don't know how to do this you can have your web designer do it or you can reach out to support@mobilemonkey.com and we can help you.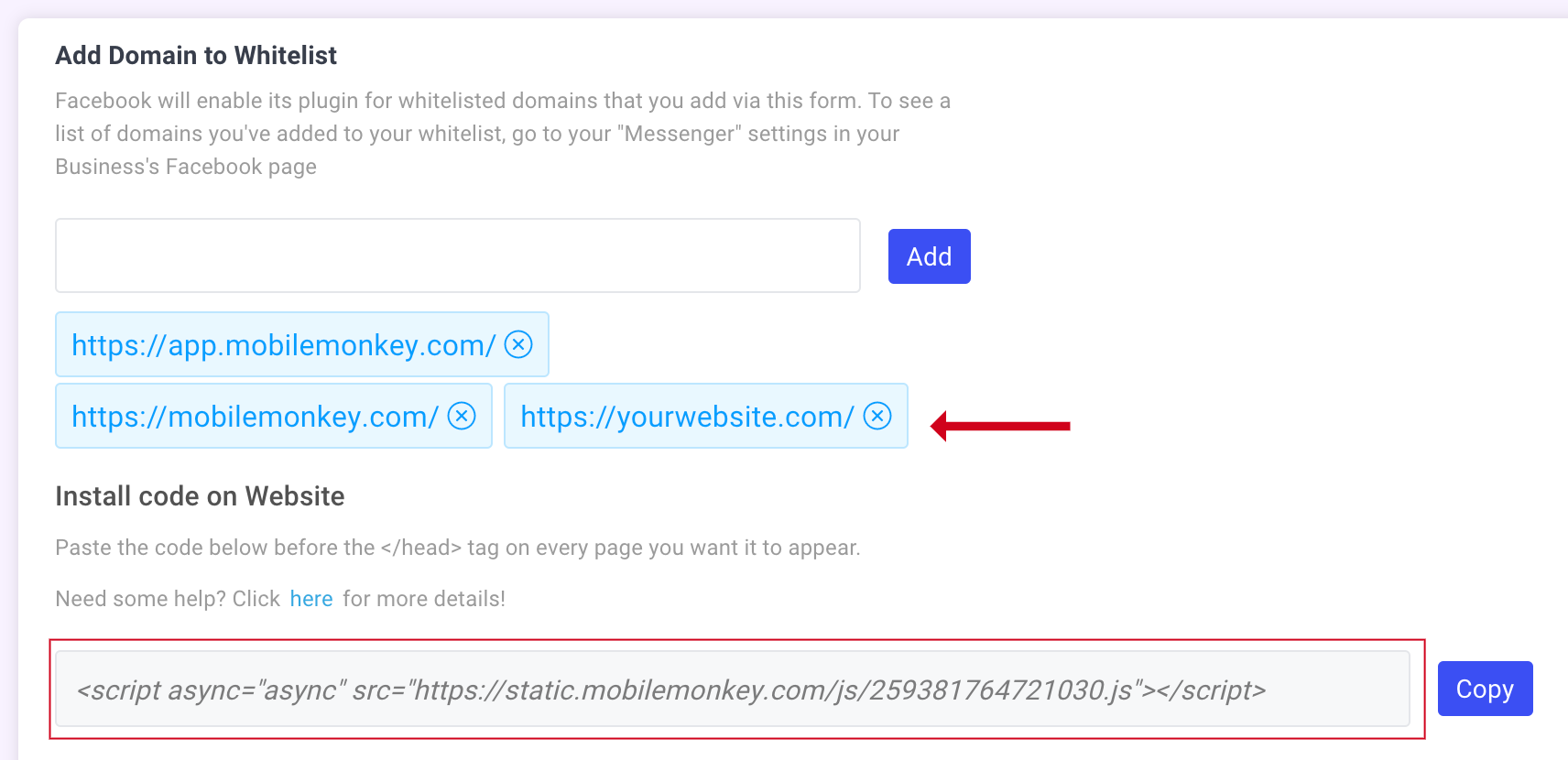 Share Links
You can create a link that you can share from any dialogue you have. You can share these links in SMS messages, emails, messenger and groups. Another great way to use share links is to dialogues that you have created for questions that you get over and over. You can now simple share a link to your bot with the answers to those questions. There are so many ways to use share links that are really powerful and you can build them really quick.
Choose Your Dialogue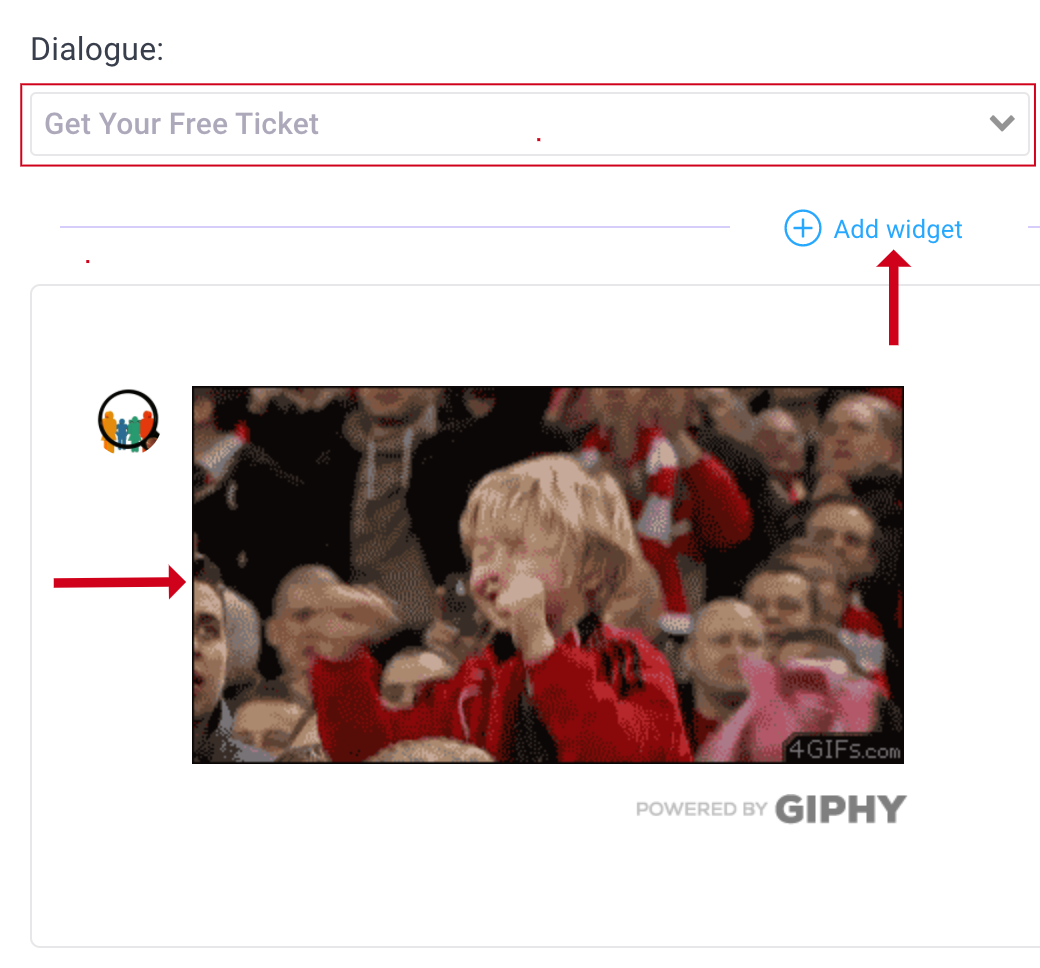 we have chosen a dialogue that has a gif but you can choose any dialogue you want or even create a new one.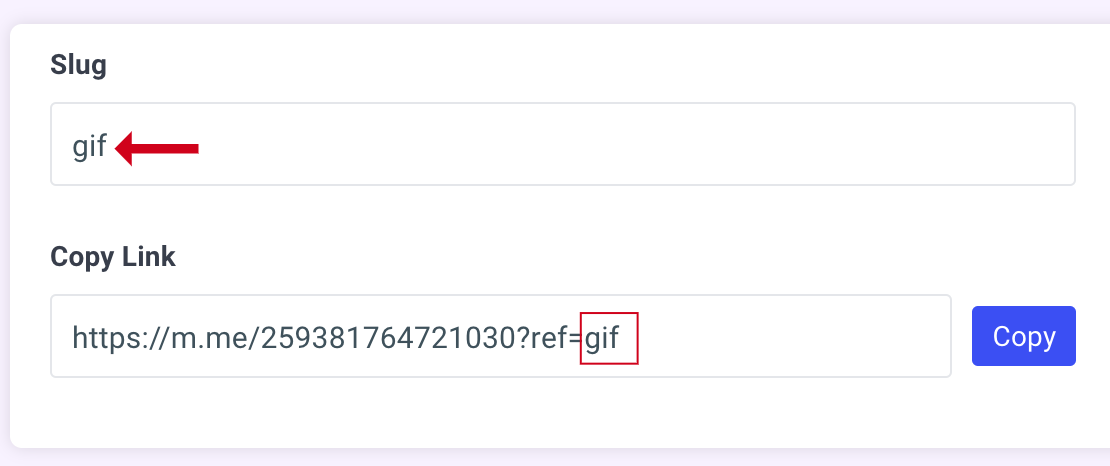 Change the slug and the web address below will change. You can even create multiple share links with different slugs that point to the same dialogue. This is a good way to track where your subscribers are coming from.
The last thing you want to do is click Activate and start sharing your link.
Landing Pages
If you want to do a quick landing page to get opt-ins without having to host a web site. You can use our built in landing page builder and with a few clicks you are ready to go.

On this page you will see a list of all your landing pages. to create a new one click the "Create Landing Page" button on the top right.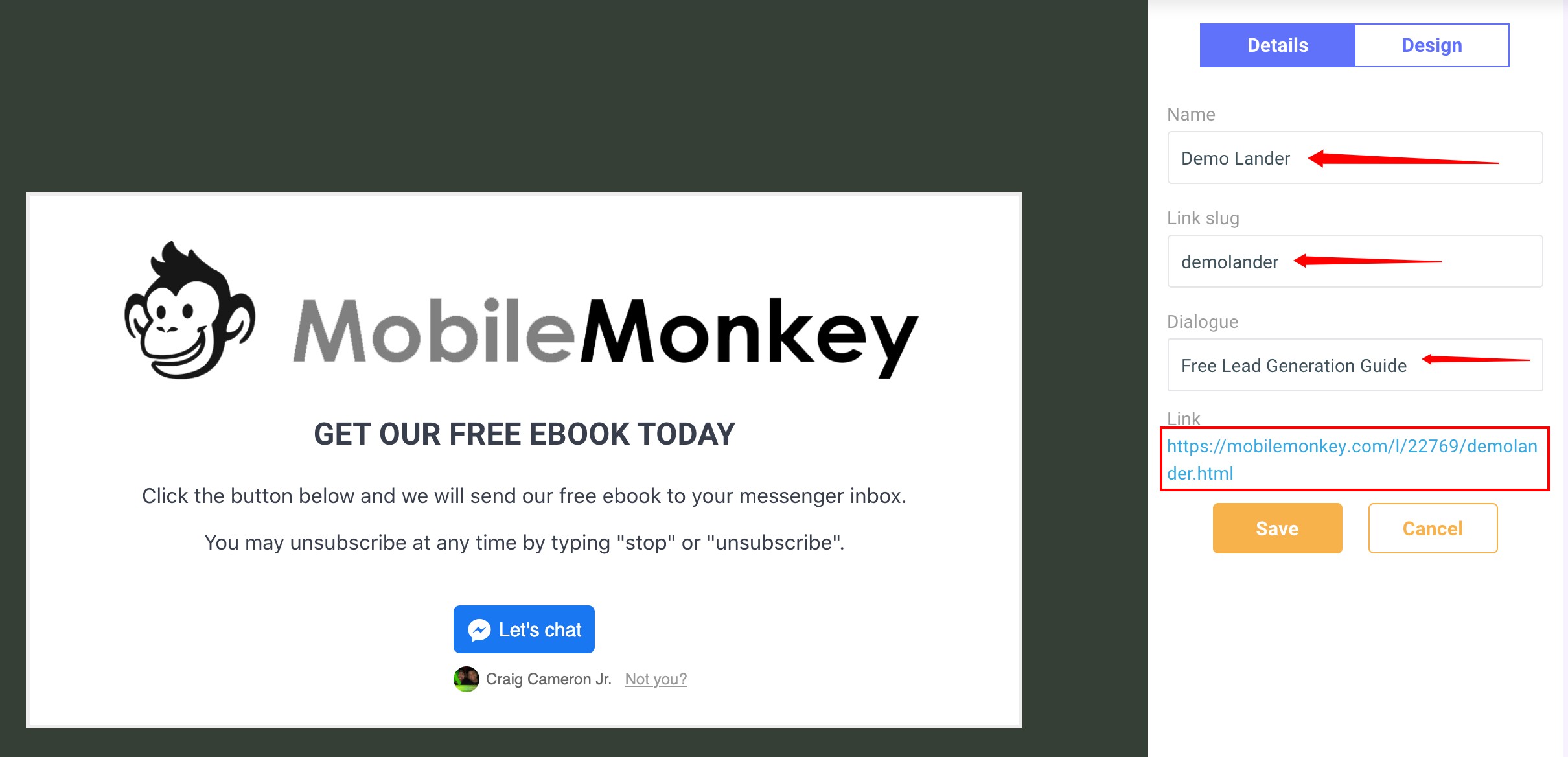 Here is an example of a landing page we created.
Name your page
Come up with a slug for tracking purposes
Choose a dialogue that will load up once users subscribe
Now click on Design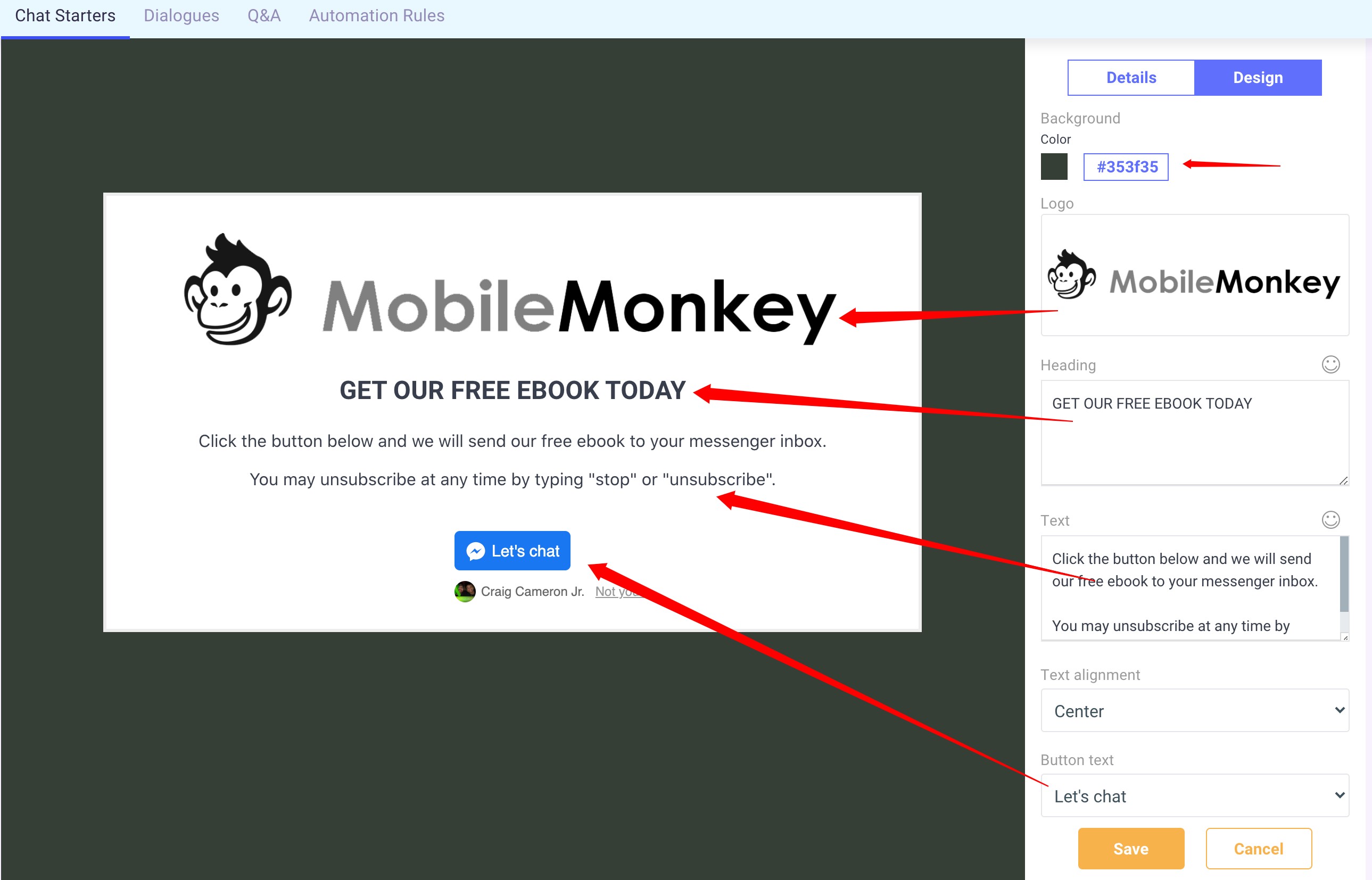 Choose your background color
Upload a header image
Create a title
Write some copy and entice the user to click on the messenger button.
Save
You now have a landing page Simply copy the link and share it via messenger, email or sms.
Dialogues
Dialogues are where all the conversations happen. You will be spending most of your time creating conversations with dialogues. This is a bit longer section because there is a lot to it.
Dialogues can be accessed in all parts of the MobileMonkey platform. You can duplicate dialogues and use them in different areas which saves you time when creating your chatbot.
When you first click on dialogues this is the screen you will see.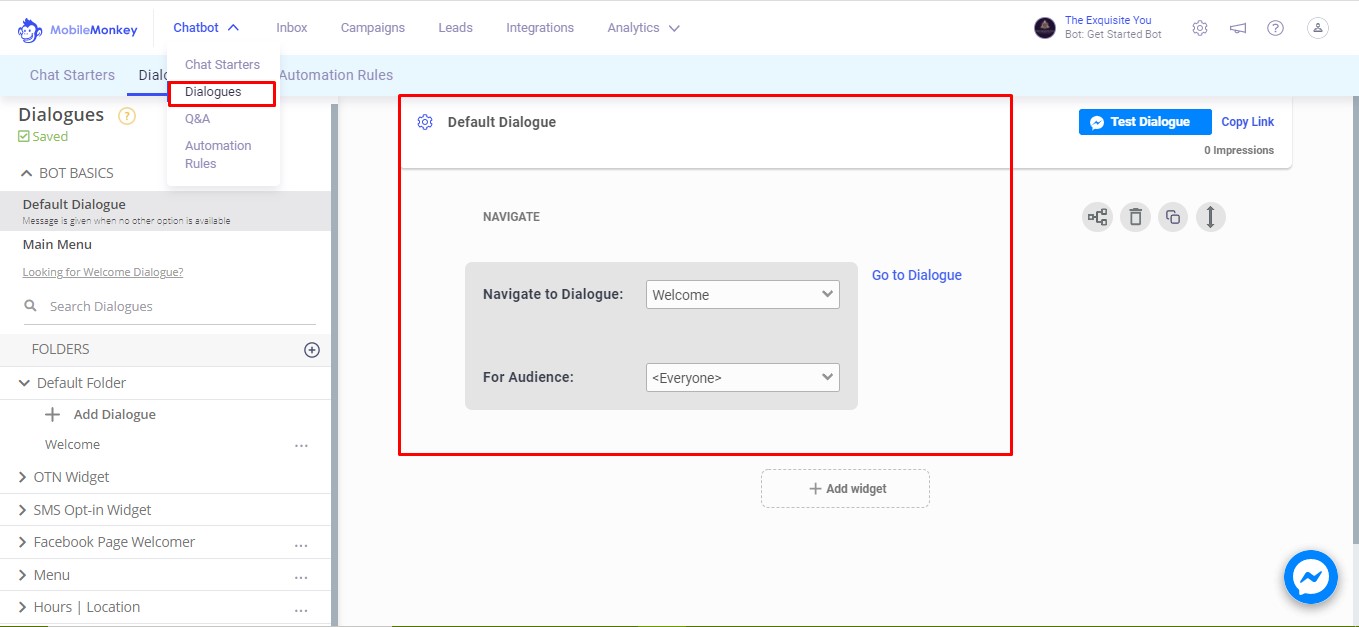 On the left panel you will access your dialogues, create new dialogues and organize dialogues into folders. On the right side you will build the dialogues by adding different widgets which we will be going over.
The first thing you will see is the "Default Dialogue". This is a fail safe response for when the bot gets confused with what the user had typed or done. We like to offer the user an option to get back into the dialogue and also ask let them know that we are contacting a human to help them.
Then what we do is add the notification widget to let the owner know to come help. We will talk more about the features of this widget shortly.
Here are all the widget you can add to your dialogue.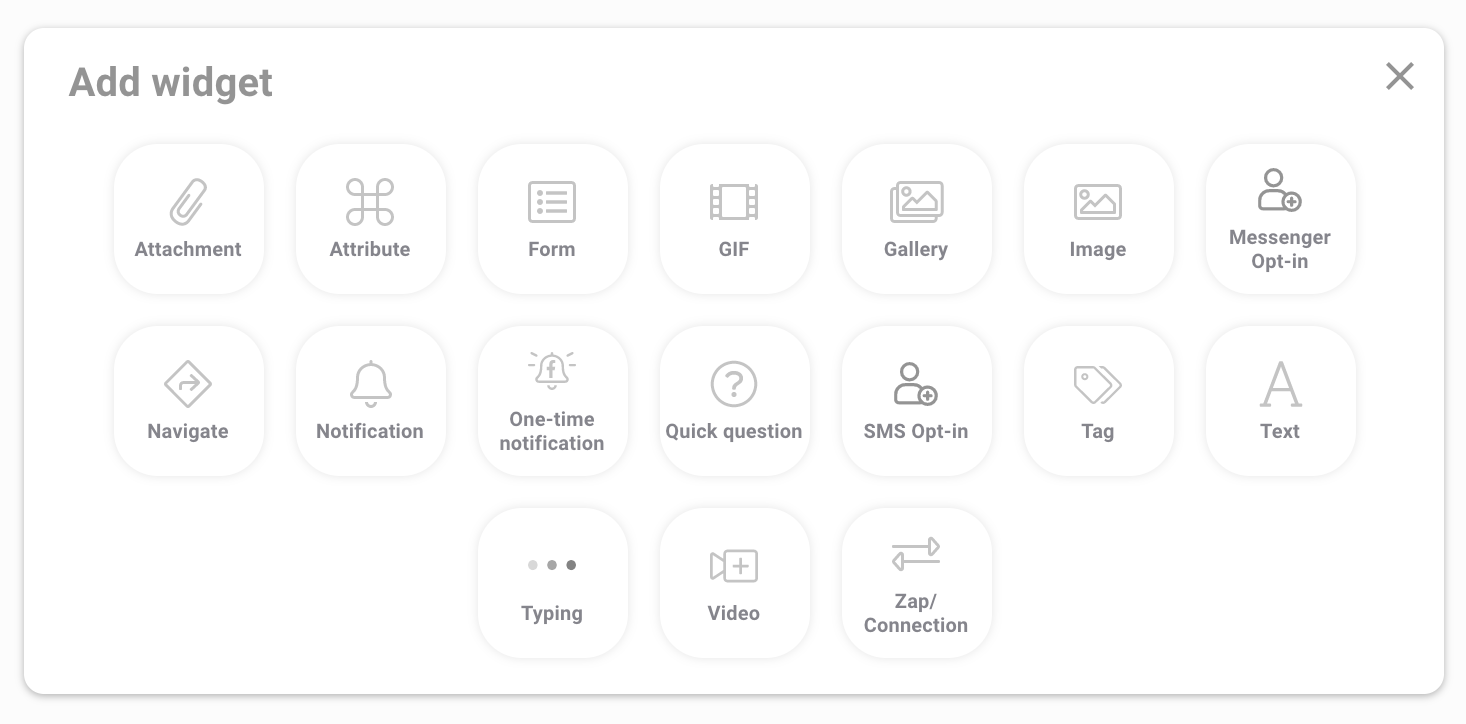 Attachment

Click the link to
---
---