Sponsored Messages
On March 4, 2020, Subscription Messaging is going away!
Even if you previously had Subscription Messaging permissions, Facebook is removing them for all pages not in the News Page Index.
Use Sponsored Message ads to reach all contacts who have messaged you in the last year at a cost of $0.02 per impression.
About Sponsored Messages (formerly "Promo Blaster")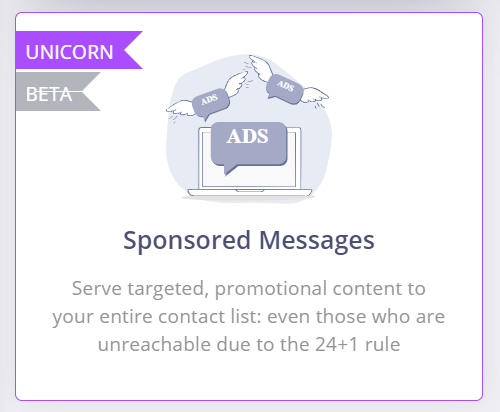 Send direct messages to your subscribers
Not restricted by the 24+1 rule
Choose any dialogue
Choose budget
Important Notes:
Recommended image size: 1200x628 (Facebook will cut it to this size if you don't)
Custom Audience should be at least 20 contacts
Bid Cap Strategy should be used
Minimum bid varies by country, e.g. for US should be no less than $25 (not the same as Budget). This is on Ad Set level - Optimisation and delivery
Sponsored messages are billed on an impression basis. Your ad account is charged for an impression when someone sees they have a message from your business in their Messenger Inbox. Sponsored messages are on an auction-based bid. Learn more about billing with ad auctions.
Budget is around $30 per 1000 impressions. If audience is larger than 1000 contacts make sure to add more to the budget. If audience is less than 1000 impressions full budget won't be used.
Most sponsored messages are delivered within 24 hours of campaign start, but Facebook recommend advertisers run sponsored messages campaigns for at least five days to maximise delivery.
After publishing your ad in MobileMonkey, the final step is to activate the ad in your Facebook ads account!
---
---