How to create an exclusion audience to use on your Facebook ads
As you start to chat with your leads you may want to tag some leads as unqualified and exclude them from your future ad campaigns on Facebook. Follow the steps below to create an exclusion audience directly from MobileMonkey.
Step 1: Tag all your unqualified leads
There are 2 ways that you can apply a tag to unqualified leads:
Tagging manually in your MobileMonkey inbox.

In your inbox, click on the contact you'd like to tag.
Go the the contact panel on the right hand side, open up the Tags section, and click on "+ Add tag"

Type out your tag and click enter. You can use any tag you want. Consider using words that indicate the purpose of the tag, like "unqualified" or "exclude".

Alternatively, you can have your bot apply the tag during the bot dialogue using a Tag widget. For example, you may have a real estate bot that qualifies leads by asking if they want to buy or sell a home. In cases when the user chooses "no", you will consider the lead as an unqualified lead. At this point in the dialogue you can insert a Tag widget that tags the lead as unqualified.

To apply a tag, click "+ Add widget" and select "More"

Then choose "Tags" on the dialogue menu:

In the Tag widget, type out the tag you want to use and hit enter. A small blue token will be created for your tag.
Step 2: Create an audience that filters on all your unqualified leads
Navigate to Leads and click on "+ New audience"

Name your audience and click on "+ Add filter" to add a filter for your audience

Click on "Filter by Tag":

Select "Include" as your filter type and choose your tag from the list:

Save your audience
Step 3: Sync your audience to Facebook
Go to Settings (gear icon) > Advertising. Select the ad account you'd like to sync your audience to:

In Leads, click on the snowman menu next to your exclusion audience:

Select "Sync Facebook Custom Audience"

Once the audience is done syncing you will get a confirmation on the screen. The audience should be usable in Facebook Ads Manager in 24 hours.
Step 4: Use this audience as an exclusion in all your Facebook ads
In Ads Manager, select the audience you synced as an exclusion audience in our ad set: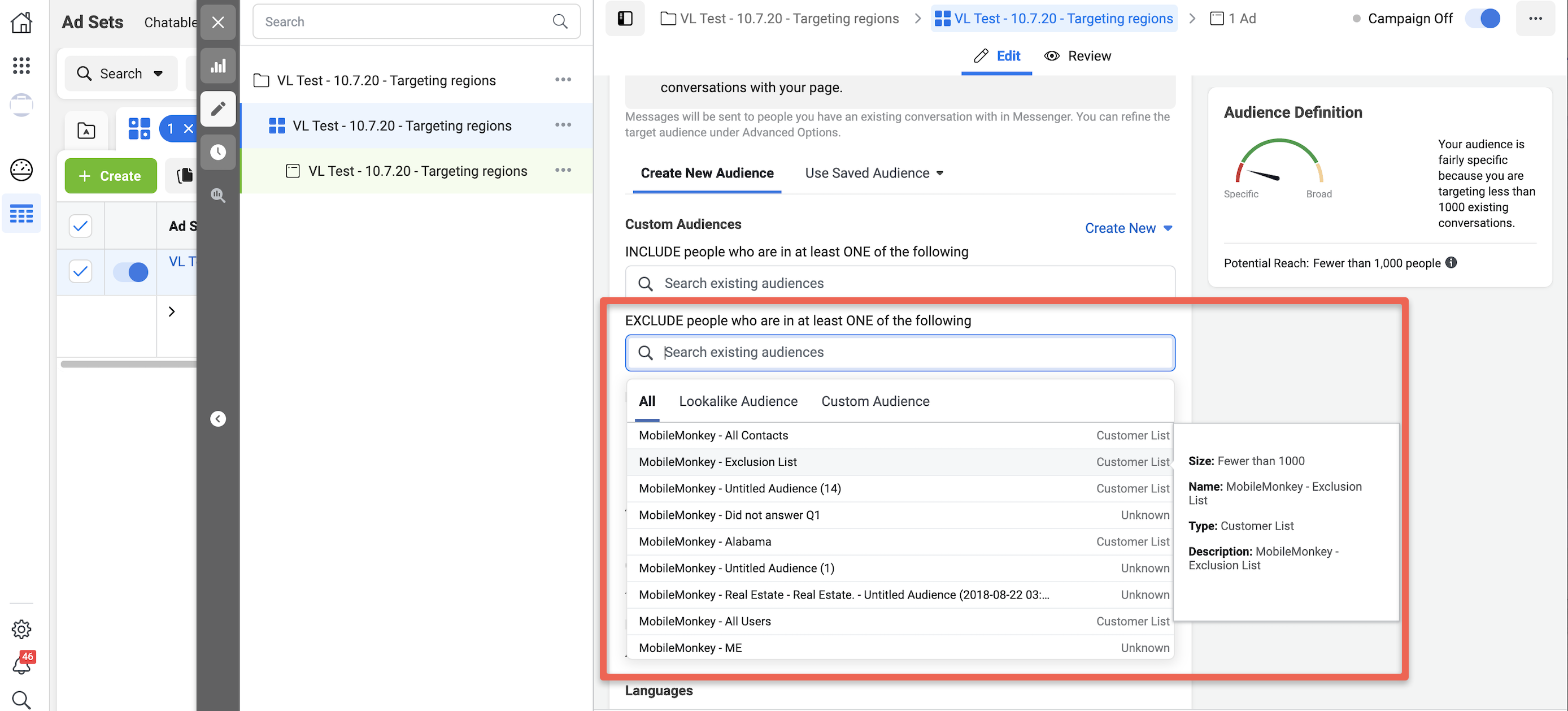 ---
---