Connecting existing ads to a MobileMonkey dialogue
Follow the steps below to connect your ads with a MobileMonkey dialogue. If you want to publish a brand new ad from MobileMonkey, see this help article.
To connect your existing ads with a MobileMonkey dialogue:
Go Campaigns > Click-to-Messenger Ads > Create Click-to-Messenger Ads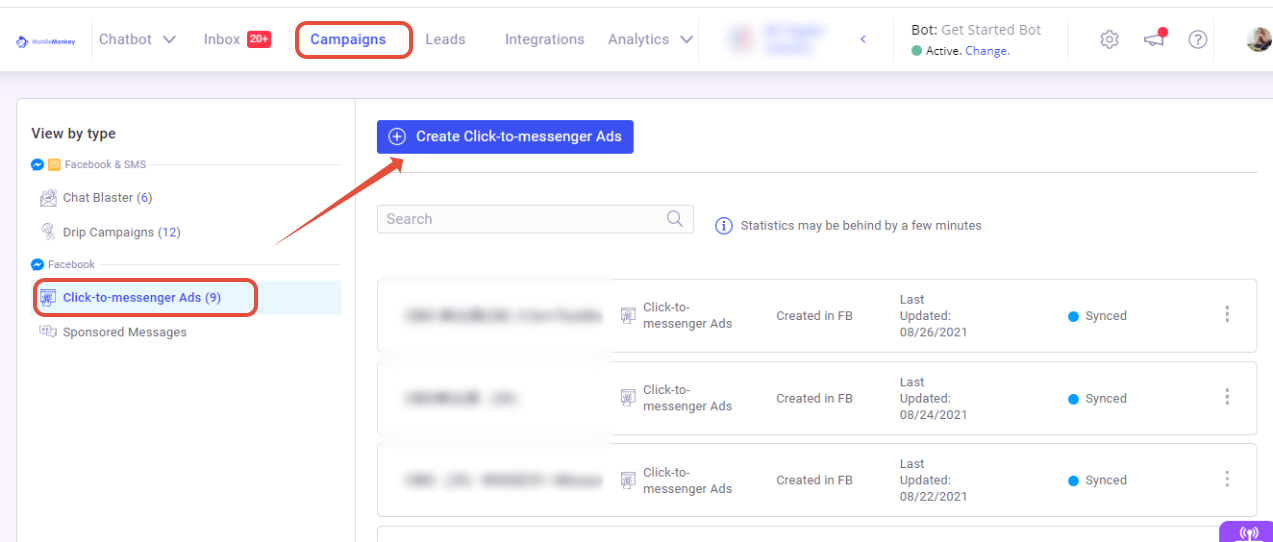 Select on the "Sync an Existing ad created in Ads Manager "

Fill out the sections in the form

Step 1: Build the dialogue you want to use for your messenger ad(s). A dialogue is a series of messages that the bot will send when the user clicks on the ad and engages with your page. Note that the first message in the dialogue cannot be deleted since it is an opt-in question, as required by Facebook.

`Step 2: Select the ad account and campaign you want to select ads from. Then select the ads that you would like to sync

Note that you can choose to sync automatically or manually. To sync automatically, simply select the ads you want to sync and hit "Sync Ads". This is the recommended flow.
Are your ad account/campaign/ads not showing up? Check this helpdoc for some FAQs.
If you are experiencing some errors syncing automatically, you can choose to sync manually, directly in Ads Manager. to do this, click on "Connect manually" and follow the instructions provided. You will need to copy out a JSON snippet and a ref parameter, and paste them in your ad setup in Ads Manager

As part of the ad setup we will automatically create an audience for contacts who clicked through your connected ads. The name of this audience is listed in the "Advanced" section of your ad setup.
---
---