New Leads Guarantee
MobileMonkey's New Leads Guarantee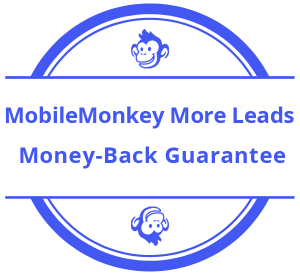 We're so confident that you'll get more and better leads for your business using MobileMonkey's Messaging Services that we guarantee it or your money back!
How does it work?
To participate in this guarantee you must activate MobileMonkey messaging services including; Website Chat, Facebook Messenger and SMS*(Required and supported for US & Canada Only) service activation. If MobileMonkey fails to create 20 of leads/contacts for a Pro Subscription or 50 for a Unicorn or Team subscription, after 90 days of use with required activated services, your money back. ** Read the 3 Messaging Services details to understand what needs to be activated - these services need to be activated and running for a full 90 day period.
Details
Activation of 3 Messaging Services:
Once you've completed these 3 service activations, MobileMonkey's new leads guarantee begins...
Facebook Messenger Service Activation
Website Chat Service Activation
SMS Service Activation *(Required and supported for US & Canada Only)
Activate SMS Phone Number
Execute 1 SMS Chat Blast to a minimum of 10 contacts
---
---