24+1 Facebook Policy
24+1 rule
Since July, 31st 2019 Facebook strengthen Messenger Platform Policy in terms of sending free promotional messages.
Now it is only allowed to send PROMOTIONAL Chat Blasts, Drip Campaigns within the 24-h window since the opt-in event or last conversation. This mean that within 24 h you can send as many messages as required, but if contact didn't respond to the message within that time - you will only have +1 attempt to reach that contact.
In MobileMonkey we call it Reachable audience. In Audience Insights/ Audiences you can filter audience to reachable.
This includes contacts who had convesation with the bot within last 24 hours & contacts for which +1 attempt hasn't yet been used.

If Chat Blast or Drip Campaign scheduled to the Total audience, MobileMonkey automatically filters the audience only to reachable.
Can I send messagies outside 24-h window?
Yes, if the page approved to Subscription Messaging. Check out the article on how to get approved for subscription messaging.
Is there other option except Subscription Messages?
Yes, you can send Promo Blasters (called Sponsored Messages) to your audience. Check out how it works.
| | | |
| --- | --- | --- |
| Standard Messaging | Subscription Messaging  | Sponsored Messaging |
| Messages can be sent during a 24-hour window that resets any time the person sends a message to the business.  | Can be send outside 24-h window. According to Facebook, no advertising, solicitations, marketing, or promotional content of any kind.  | Messages may contain promotional content and be sent outside the 24-hour |
Policy Violation Notifications
Any time a bot is restricted for Platform Policy reasons, the page will receive an explanation of the Policy violation in an email sent to the Page Support Inbox for the app.
To access the Page Support Inbox, click 'Page Support Inbox' the left sidebar of your Page settings: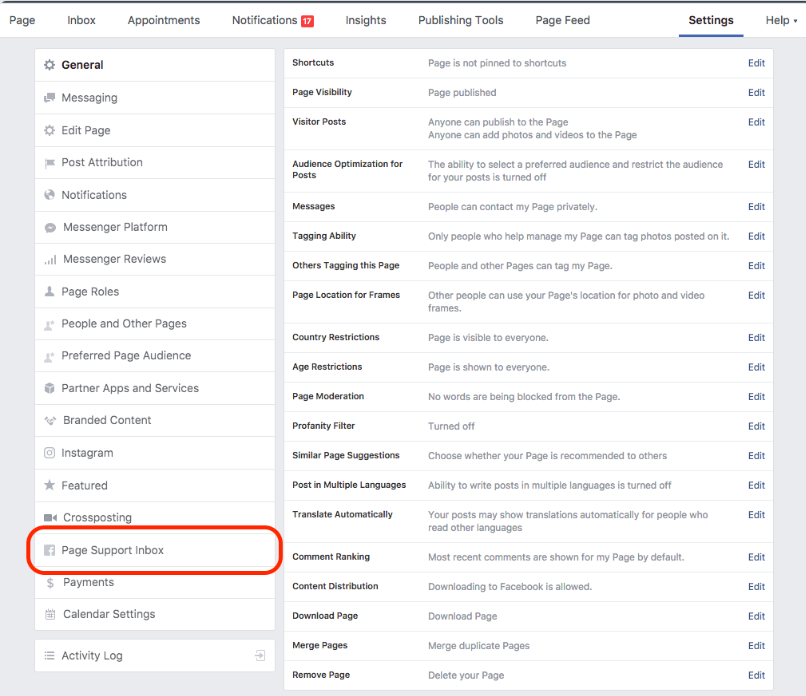 ---
---