Facebook's 24-Hour Rule
Reachable Contact Count & the 24 Hour Rule
Facebook's 24 Hour Rule states that pages can only send a PROMOTIONAL message to users who have messaged the page in the last 24 hours. Each time the contact sends a new message to your page, the 24 hour window resets.
In MobileMonkey we call it Reachable audience. When you create a Chatblast or a Drip Campaign, we will show you an estimate of the Reachable audience under "Reachable Contacts". Even if your Chat Blast or Drip Campaign is set to target "All Contacts", MobileMonkey automatically filters the audience only to those who are reachable.
How can I send messages outside the 24-hour window?
There are a couple ways to do this:
News Messaging (Also known as Subscription Messaging). Only Pages that are registered with the Facebook News Page Index (NPI) will be allowed to send non-promotional news messages. See this article for more information on Facebook's Subscription Messaging policy.
Message Tags. See this article for more information on facebook's Message Tags policy.
One-Time Notification Tags. Facebook will allow your page to send a follow up message AFTER the 24-hour window if you can get permission from the contact via an opt-in. You can use MobileMonkey's 1-time Notification widget in the bot builder to collect these opt-ins.
Human Agent Tag. Facebook will allow a 7-day window for any customer service responses (live agent only - NOT responses sent by a bot). When you send a message from your MobileMonkey inbox we will automatically apply the Human Agent Tag. Note that you can't use this tag in a Chat Blast or Drip Campaign since these are bot messages.
Sponsored Messages. These are paid Facebook ads that will allow you to send a promotional message to a contact's Messenger inbox outside of the 24-hour window. See this article for instructions on setting up a Sponsored Message.
Policy Violation Notifications
Any time a bot is restricted for Platform Policy reasons, the page will receive an explanation of the Policy violation in an email sent to the Page Support Inbox for the app.
To access the Page Support Inbox, click 'Page Support Inbox' the left sidebar of your Page settings: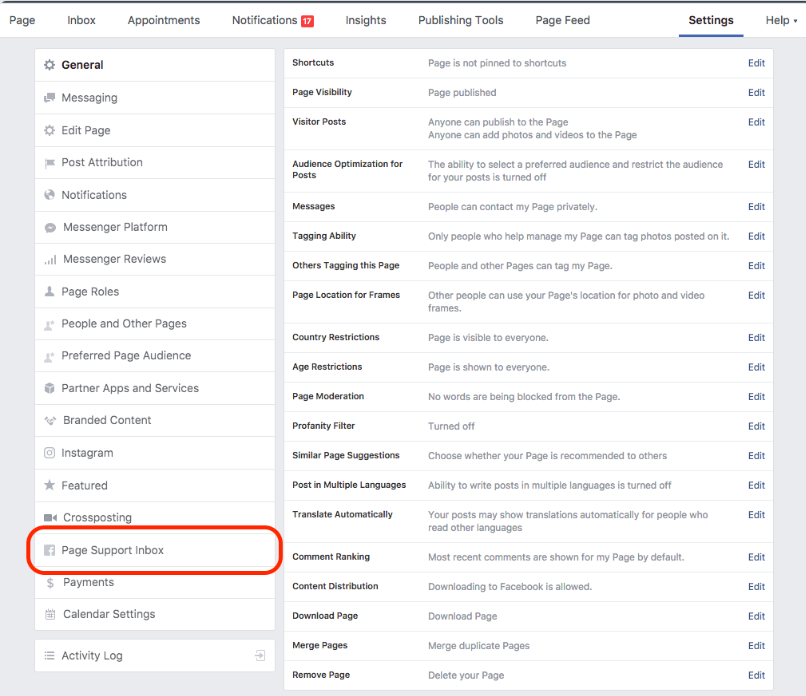 ---
---